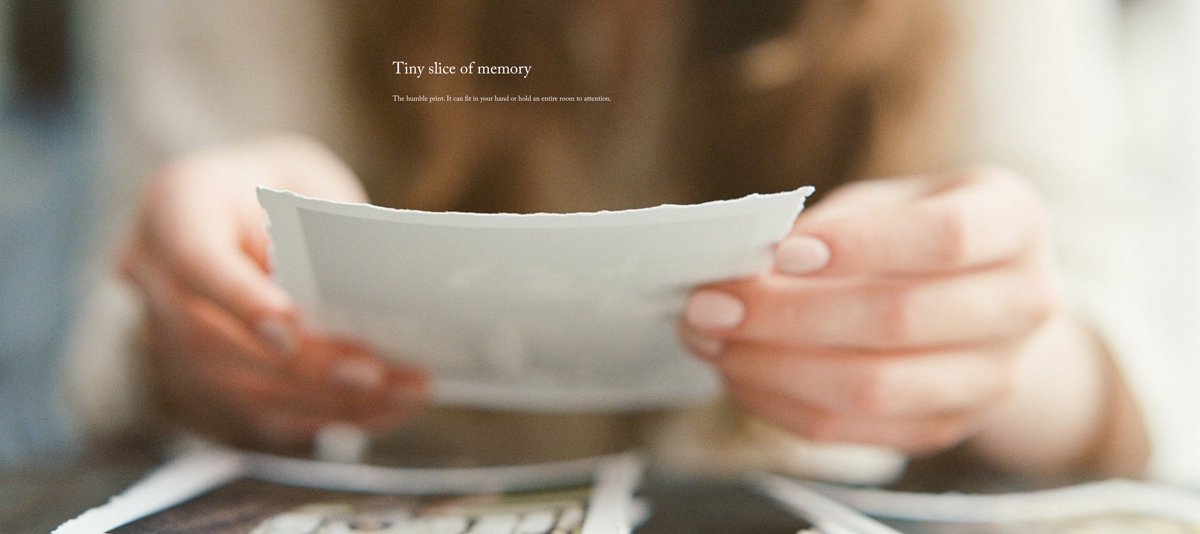 Your session's ultimate outcome is the cherished printed memories!
My clients, appreciate seeing their beautiful images in physical form, valuing them far more than having countless digital photos tucked away on a hard drive, where they might remain unseen, forgotten, or, even worse, lost!
My business is proudly associated with Australia's oldest professional print lab! For more than 85 years, they have meticulously crafted exquisite and distinctive pieces of art by hand, and I assure you that your images will be individually hand-printed to absolute perfection!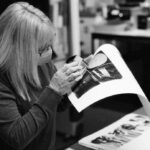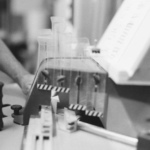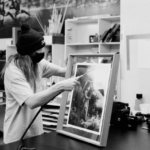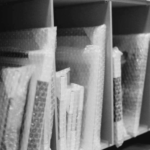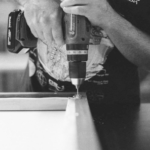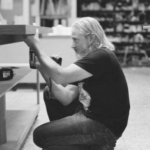 When should I order?
After you've viewed your gallery and selected your favourite images, we can discuss the printing options that best suit your needs. As part of your investment, I offer a free online consultation to go over your requirements and understand your decor/space better so that I can assist you in planning your project.
What should I order?
While considering your home décor, take a moment to walk through and assess which walls would best showcase a single showpiece image or a creative wall gallery from your session. Keep in mind that perfect display areas can be anything from a blank wall to one that already features portrait art from a previous session. Also, think about the people in your life who would appreciate the thoughtful gift of beautiful portraiture for an upcoming holiday, birthday, celebration, or just because. If you have a specific date by which you need your prints or artwork, please let me know during our consultation.
Where can I view the printing options?
You'll be able to explore a variety of printing choices in your exclusive online gallery. In case you want to preview the options beforehand, simply click the link below to visit my sample print store.
It's important to mention that since each print is made to order, displaying every conceivable option is not feasible. The price list serves as a reference, and we can customize anything to match your unique style and preferences.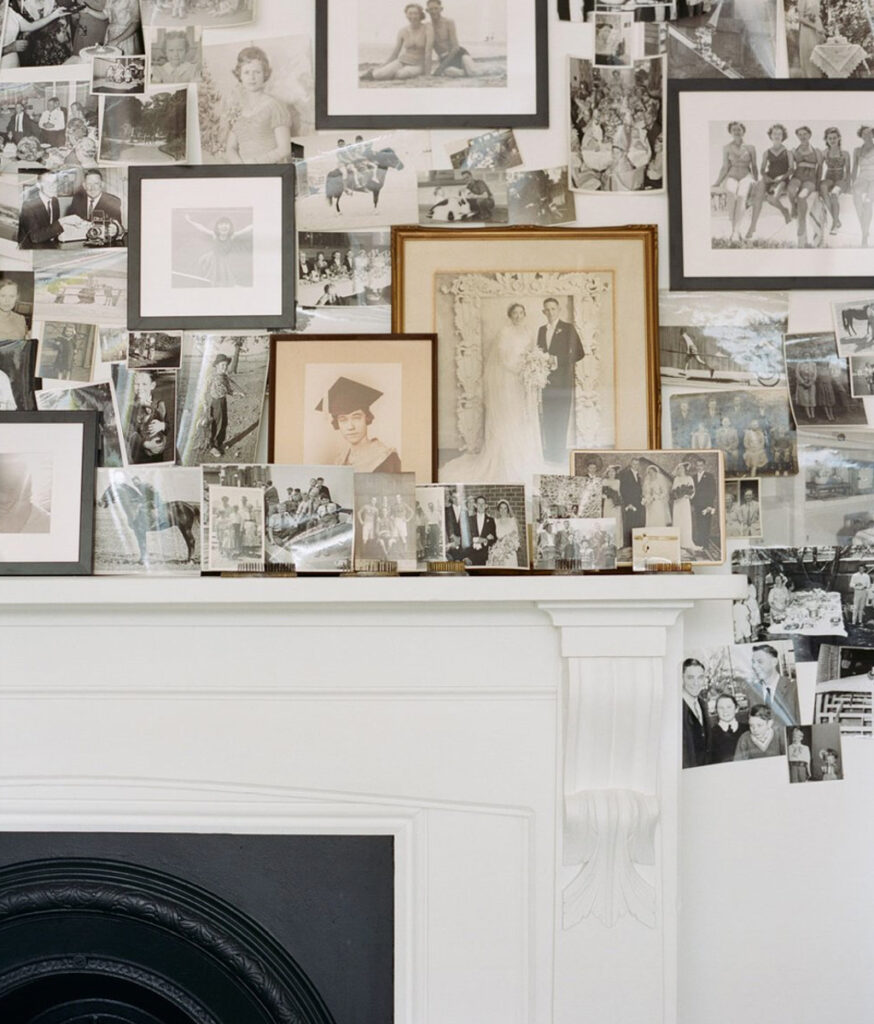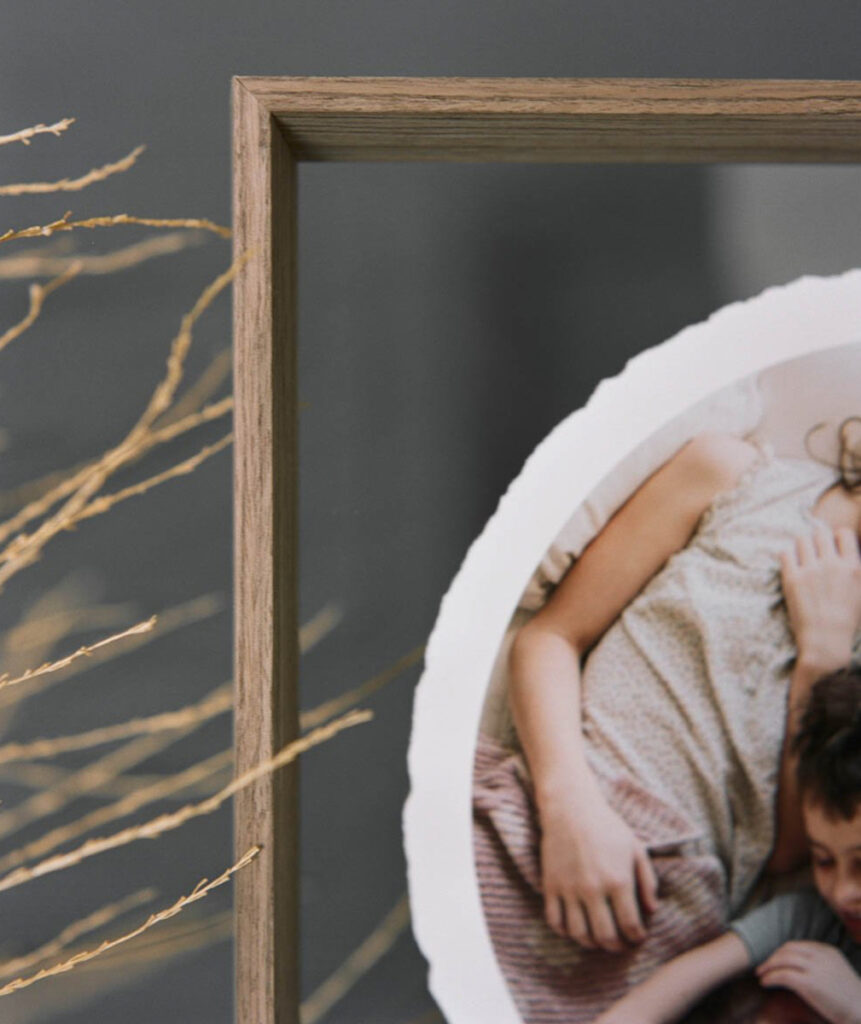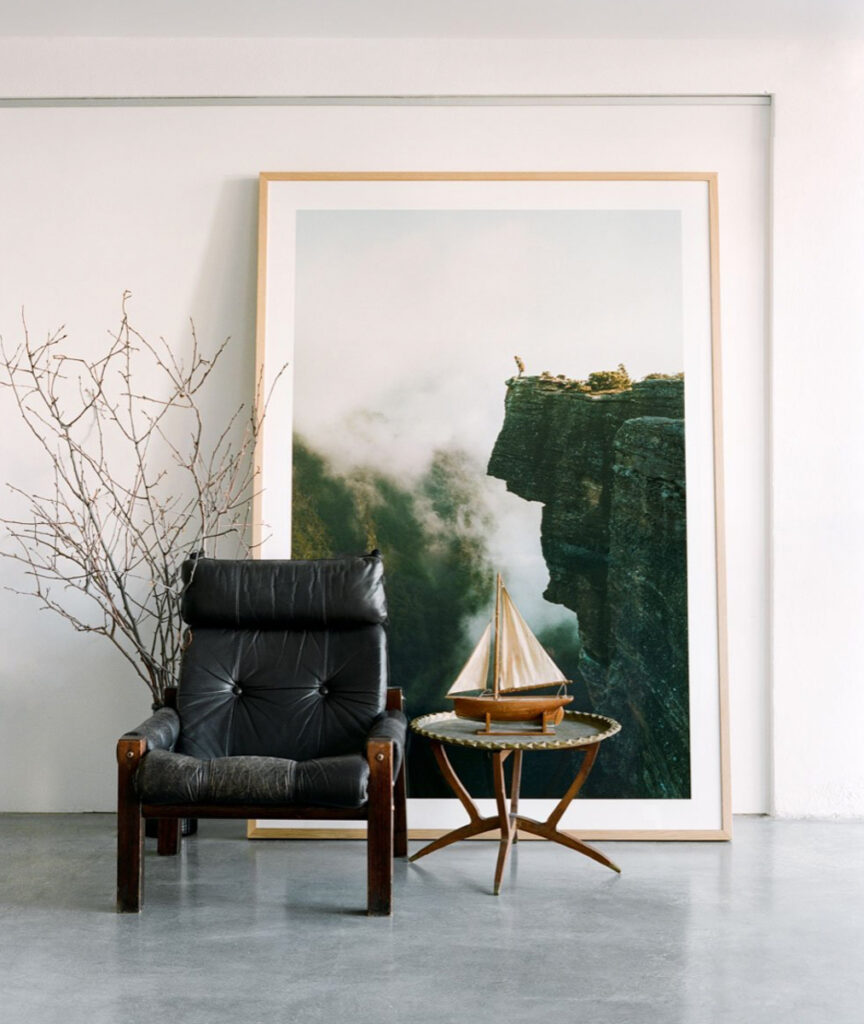 Do you have a minimum purchase requirement for prints?
Yes. To place an order for printed items, there is a minimum purchase requirement of $50. Any orders placed after the 7 days will be subject to the Studio's current pricing. To confirm your order a full payment is required.
Can I order prints from all the photos in my gallery?
You may only order prints from the digital files you purchase. The photos that you did not choose will not be available for ordering as prints.
Can my family order photos with you?
Yes absolutely! You have the option to purchase additional products for your family and friends before your gallery expires or you can share the gallery with your family and friends so they can purchase their own prints.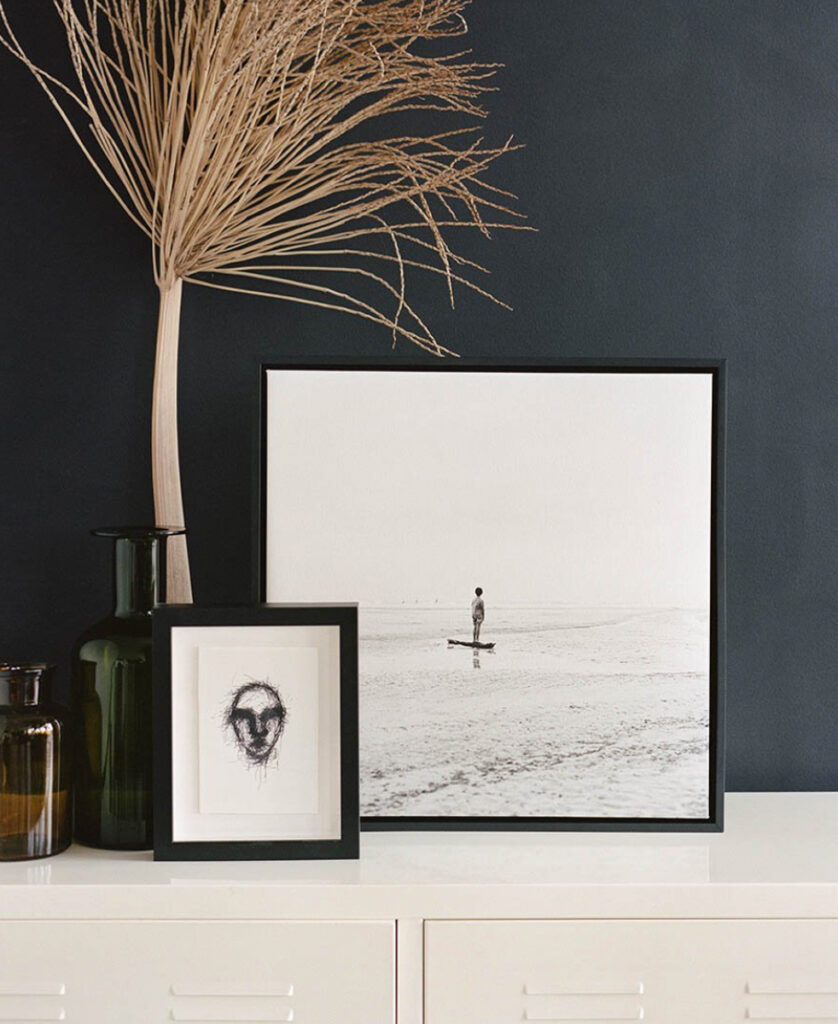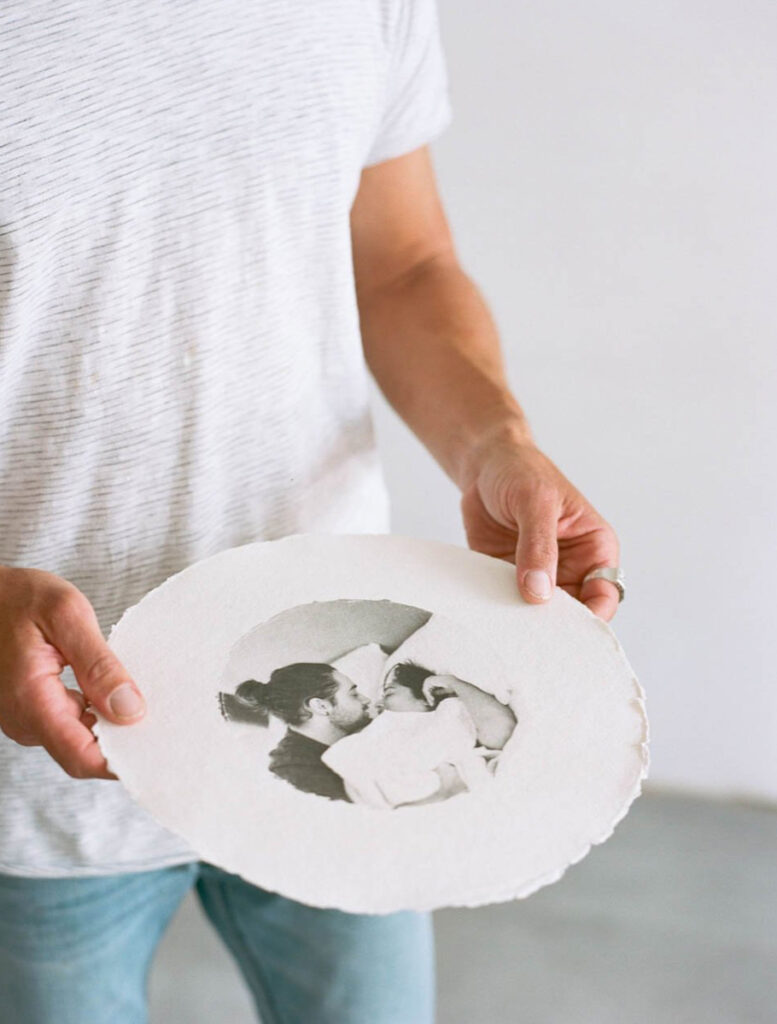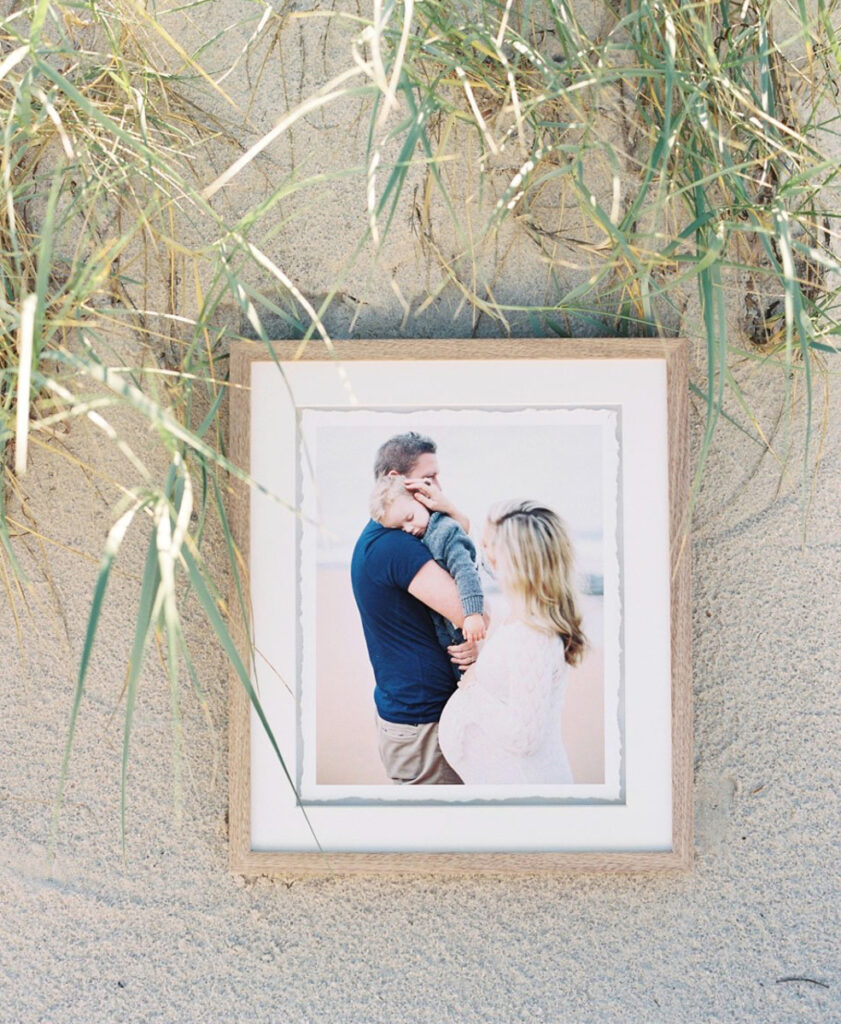 Can I print my photos anywhere?
There is a distinction between what you can do and what you should do. Your contract includes a print release for personal use, which means you have the option to print your photos at any lab of your choice.
However, I highly recommend printing directly from your online gallery for two reasons: Firstly, I can ensure the quality of the prints and communicate directly with our professional labs. If you choose to print outside of your gallery, I cannot guarantee the quality or color accuracy of the prints. Please note that I do not provide printing rights for chain stores such as Officeworks, Harvey Norman, Big W, etc., as their print quality may not do justice to the images we have created for you. My guarantee and warranty only apply to prints and products purchased through your gallery. Secondly, my print prices are affordable, and I handle all of the legwork, making it simple and convenient for you.
Do you just print the photos you take?
No. I am more than happy to assist you with any editing, printing, or framing needs you may have. I have extensive experience with printing various types of photos, including old family photos, prior sessions, wedding or baby images, and even travel photos.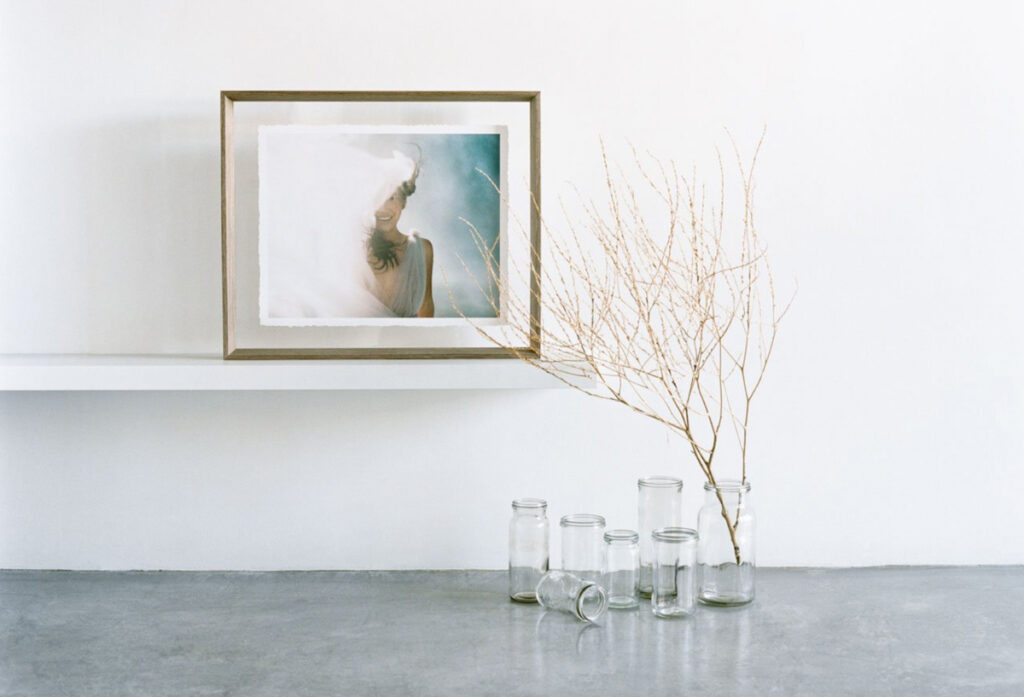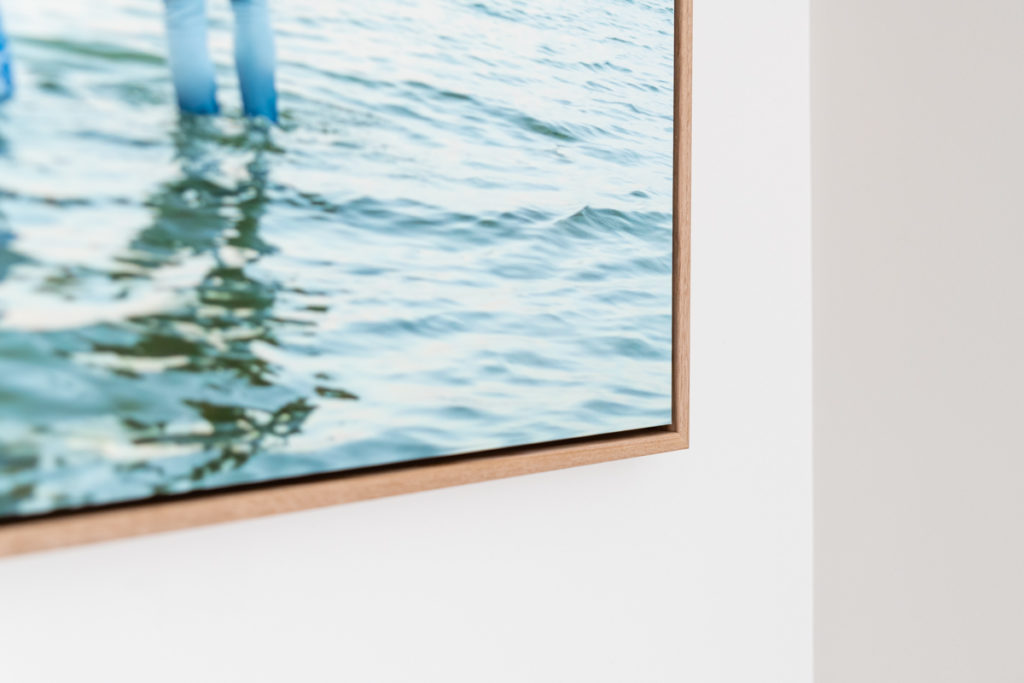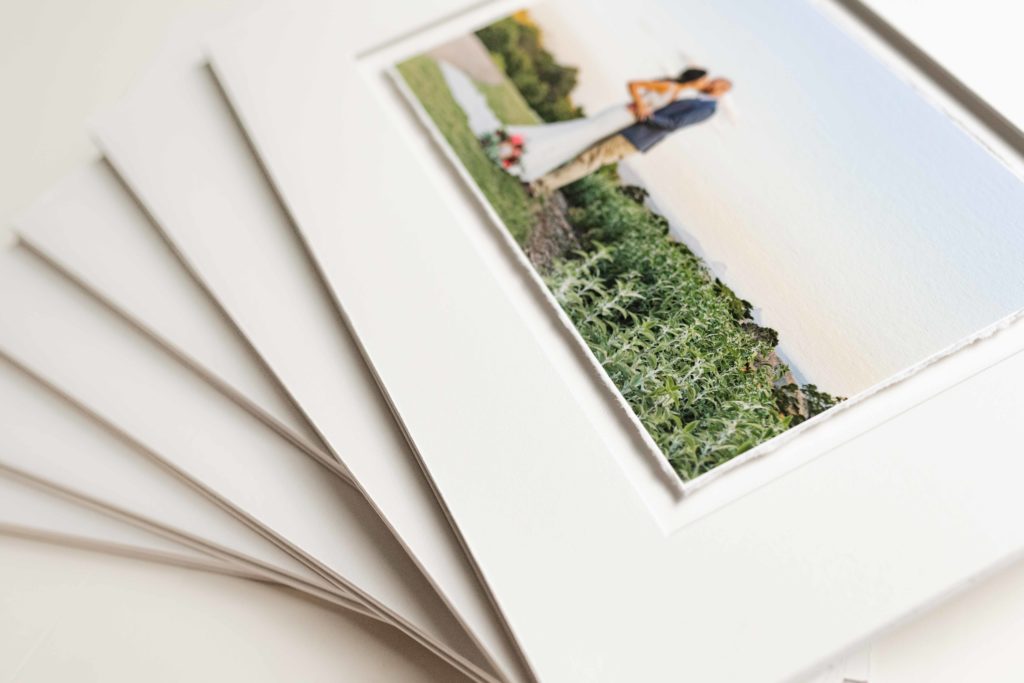 What size can I print?
To ensure the highest quality prints, it's crucial to size your image correctly for the intended print. I can assure you that the print quality up to 16 x 24″ will be of the highest standard. It is possible to print larger sizes but keep in mind that the quality may decrease slightly, resulting in grain and deterioration. Therefore, it is crucial to select appropriate materials based on the size of the print. I'm here to assist you in selecting the appropriate size for your home or space.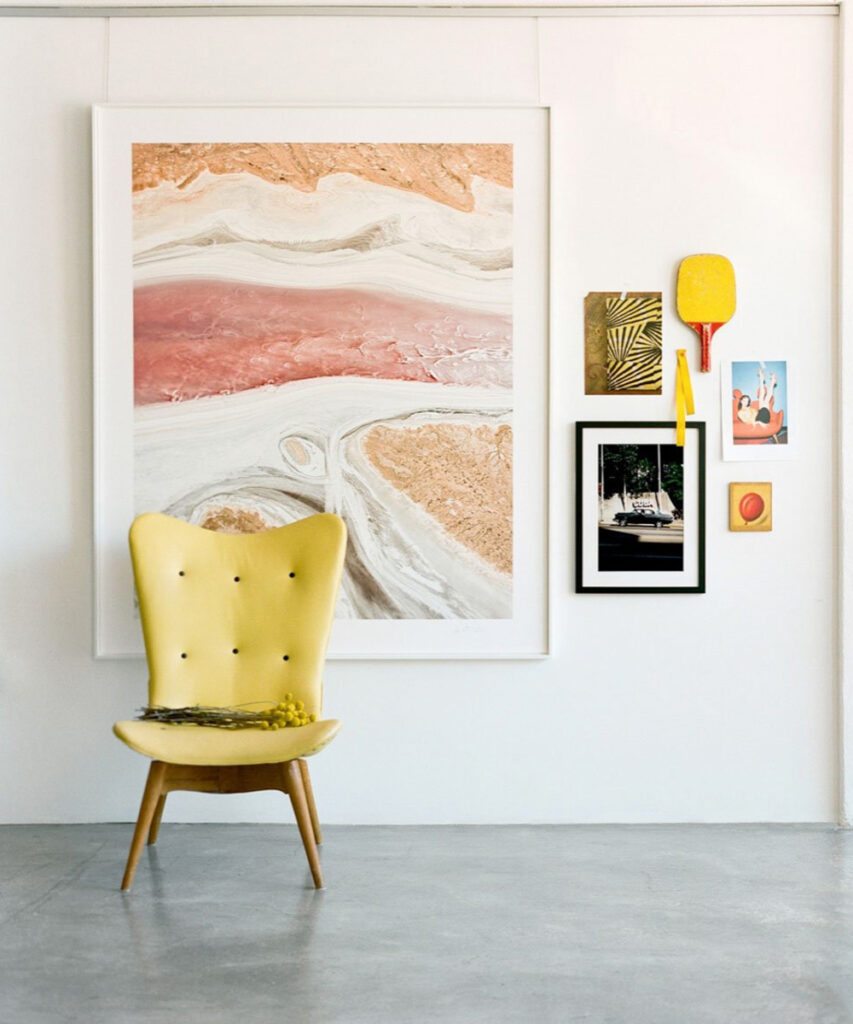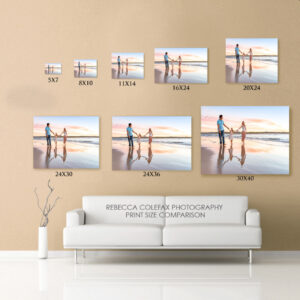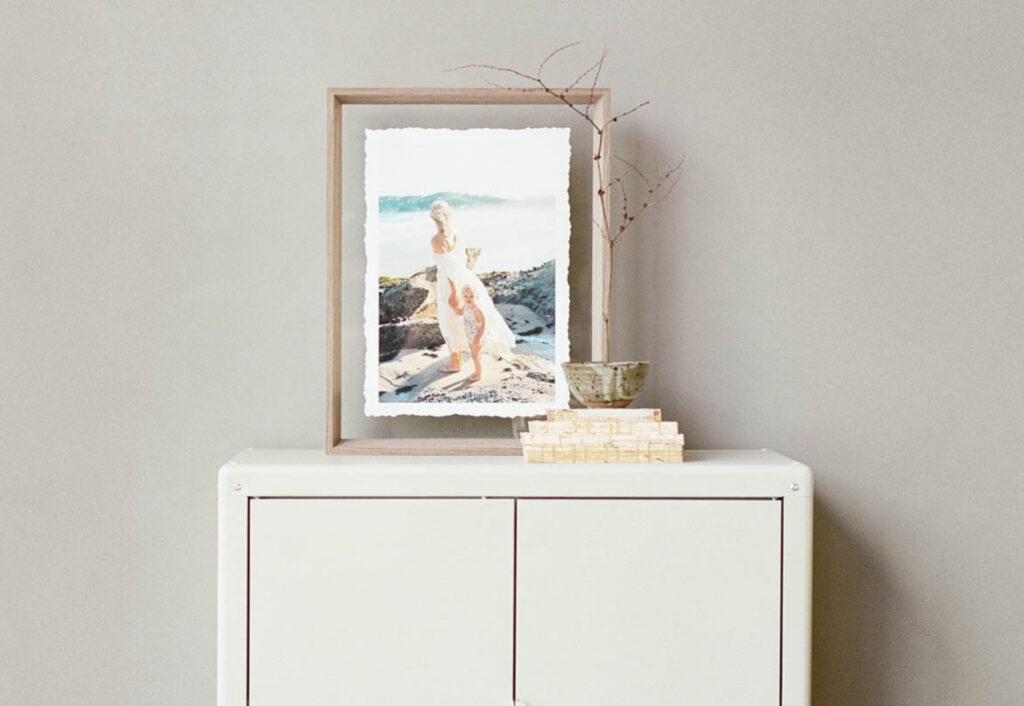 Measure your space
While there is no exact answer as to what the ideal print size should be, there are three steps you can take to ensure you make an informed decision. When considering hanging your art print on a bare wall, it is recommended to aim to fill about 2/3 of the available space. However, if you plan to hang the artwork above furniture such as a bed, a couch, or a console, it's important to ensure that the artwork isn't wider than the furniture itself. As a general rule of thumb, the artwork should be approximately 60 – 80% of the width of the furniture.
Taking measurements of your wall and furniture is a smart idea when planning to hang your art print. It's important to keep in mind that a mat board and frame will increase the size of the print. If you're uncertain about the size, you can use painter's tape to mark where you want the art to be hung. Additionally, you can send me a photo of your space along with the dimensions, and I can create a few mockups to help you visualize the size options. Below are my recommendations for print sizes based on bed size:
King size bed: 33 x 46in (84 x 119cm) without a mat board, or with a mat board for extra size.
Queen size bed: 33 x 46in (84 x 119cm), or 24 x 33in (59 x 84cm) with a mat board for added size.
Double size bed: 24 x 33in (59 x 84cm) for above a double bed.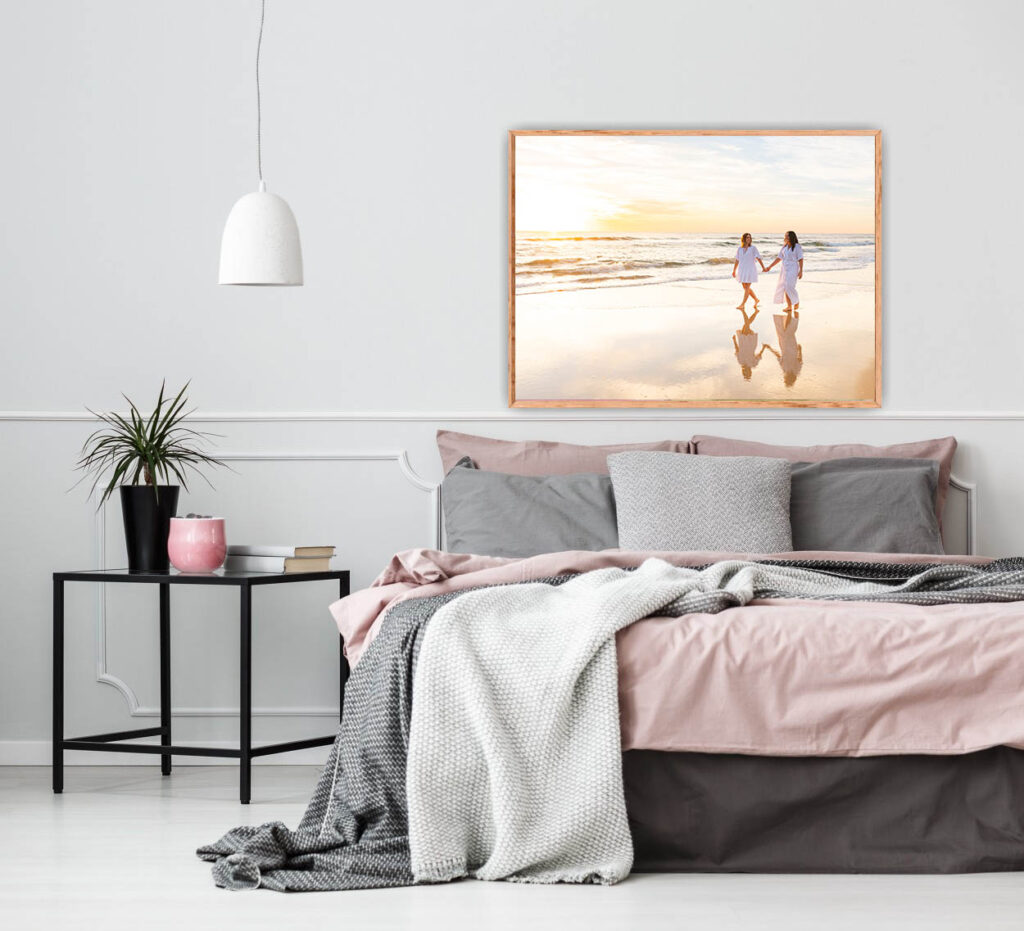 This print appears to have the right width. It is taking up approximately 75% of the width of the bed and looks well placed.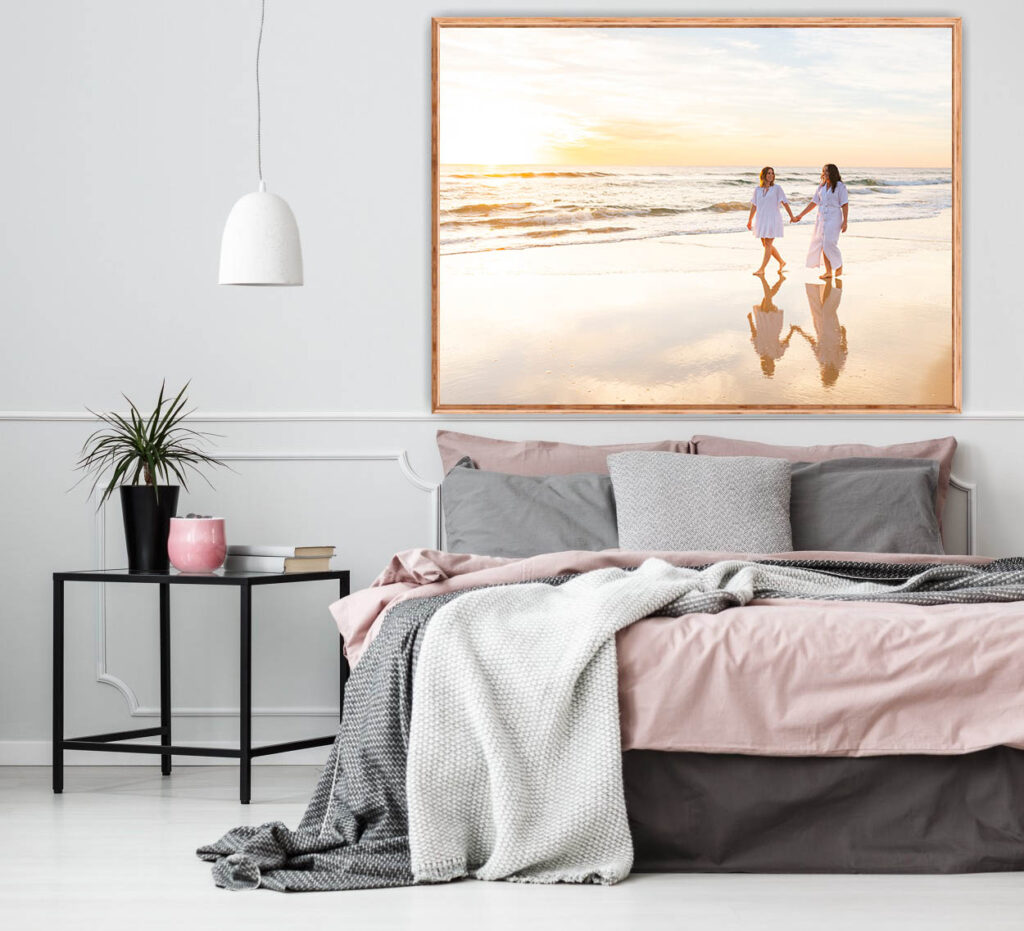 This print is too big for the bed. It takes up 100% of the width of the bed and appears to crowd out the space.
Orientation
When deciding on how to display your print, it's important to take into account the size and shape of the wall where it will be hung. If you have a narrow space, such as between two windows, it's best to choose a portrait orientation to make the most of the height. On the other hand, if you have a wider wall, such as above a bed or a couch, a landscape orientation will work better.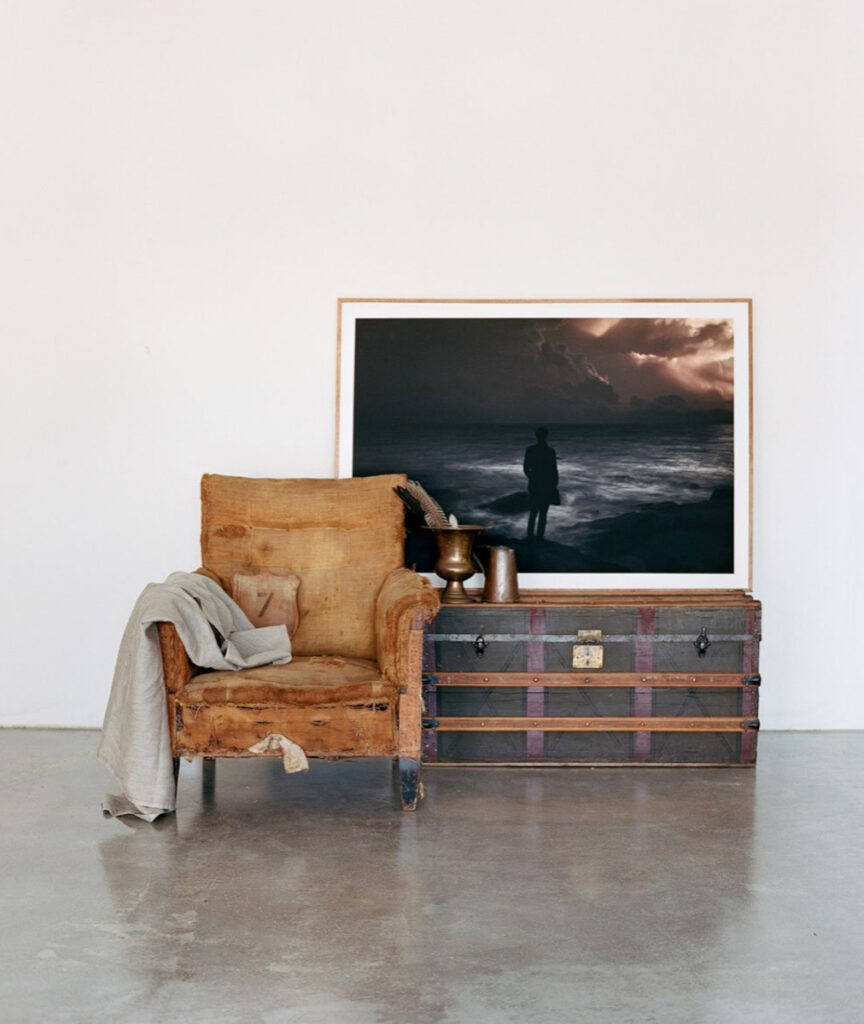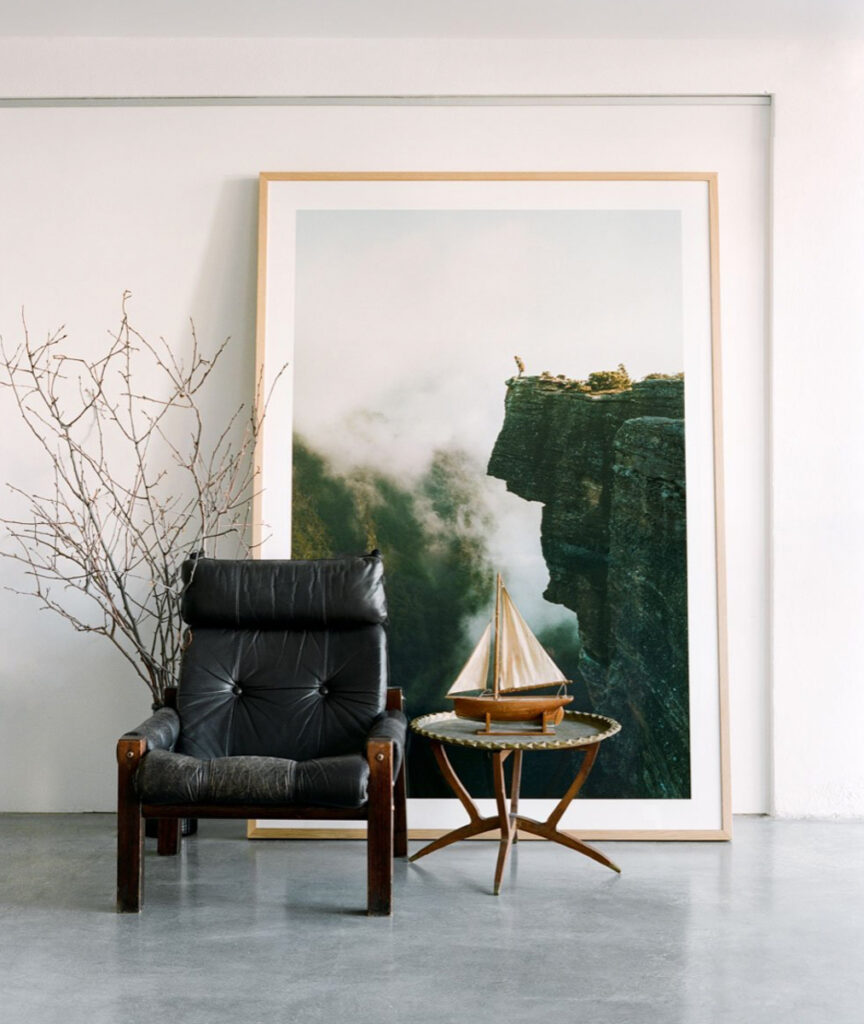 Where should I display my prints?
The lifespan of sensitized material and colour dyes is limited and can be further shortened by exposure to strong and prolonged sunlight, heat, or fluorescent light sources. For optimal longevity, it is recommended to display photographs under low lighting conditions.
To achieve a visually pleasing space, the placement of your art print is crucial. It is generally recommended to hang the center point of the print at eye level. If you're hanging a piece above a bed or couch, the bottom of the print should be positioned around 10 to 15 cm above the top of the furniture.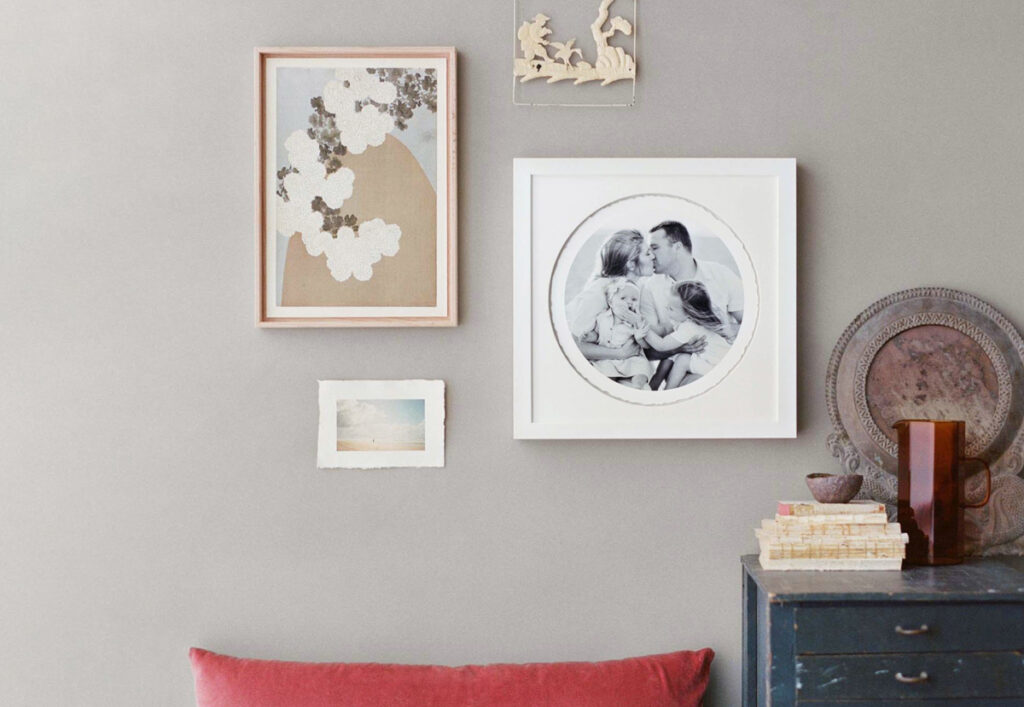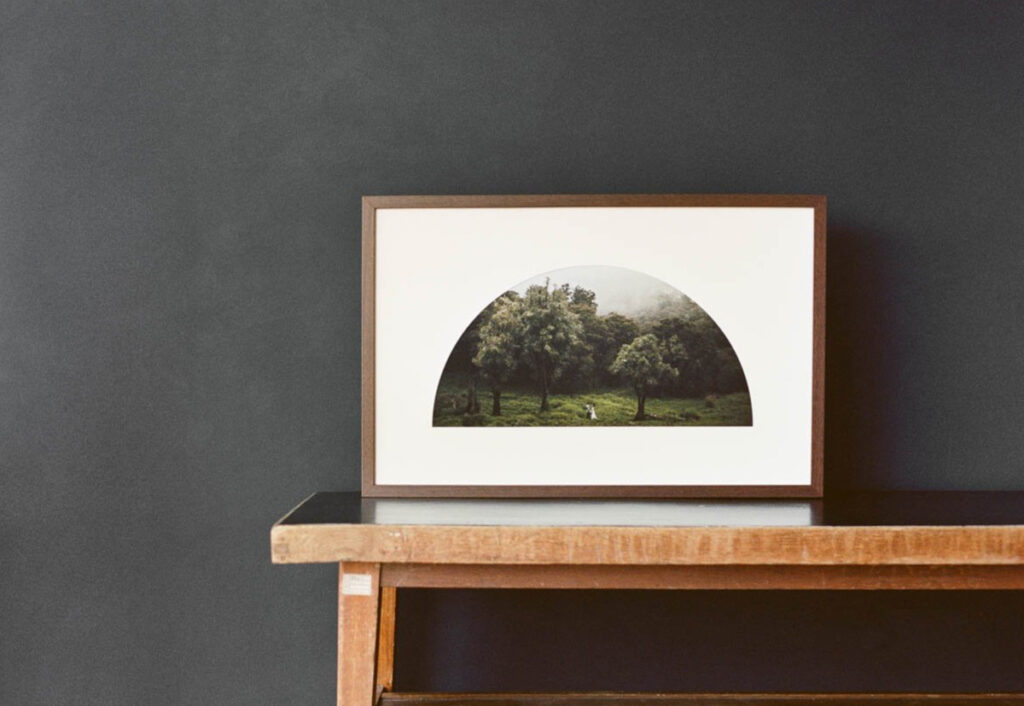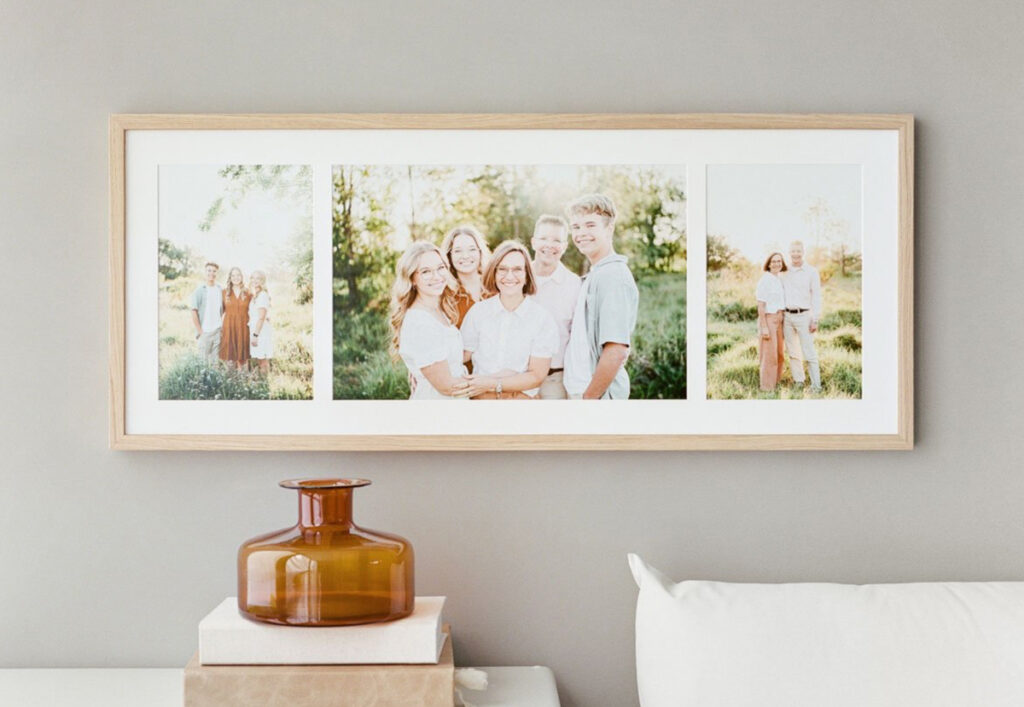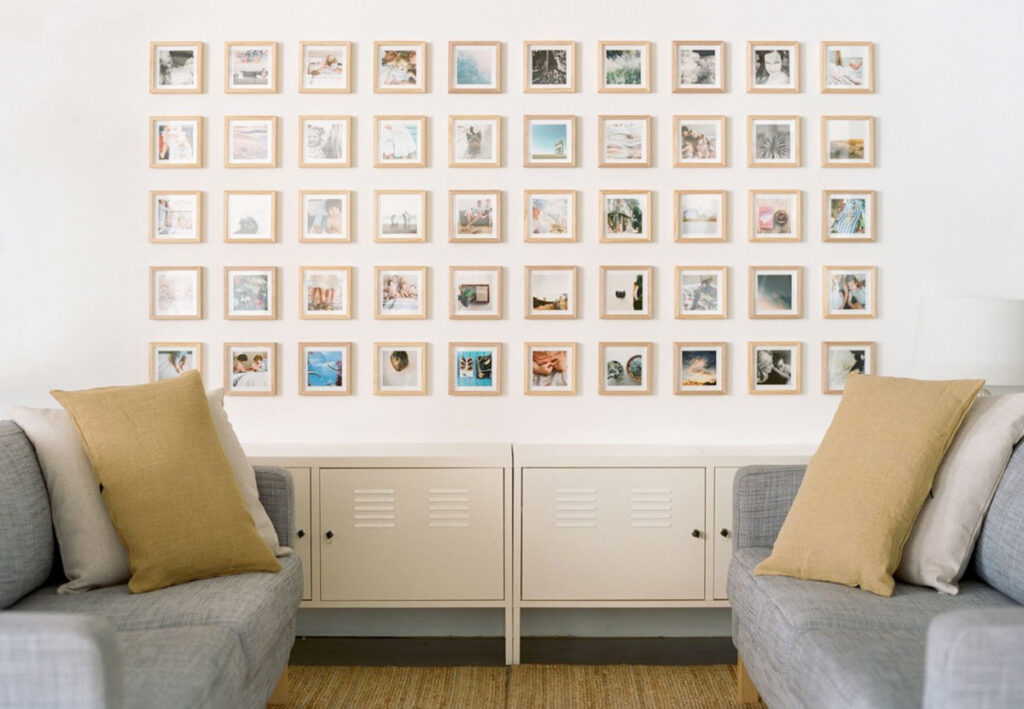 Frame Comparision
All our frames come with everything you need, the print, the frame, and the finishing touches. Custom-made, on-site, each time for each customer. We only use the highest quality Italian-made timbers, German-made adhesives and boards. No corners cut, it's the best or nothing. This leads to unique frame offerings you won't find anywhere else.
Do you use glass or acrylic in your frames?
We create your custom frames in-house and with meticulous attention to detail. Utilising lightweight acrylic glazing that protects while helping prints maintain their original colour. The cast acrylic boasts optical clarity, non-yellowing properties, and UV resistance, ensuring your artwork remains in excellent condition for years to come.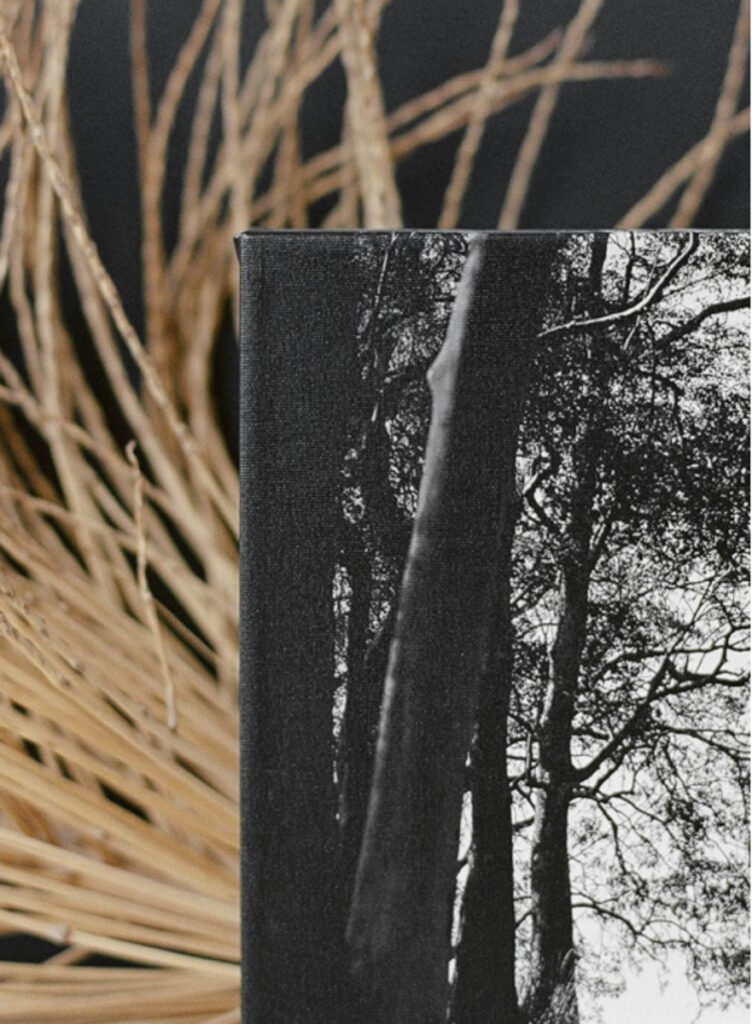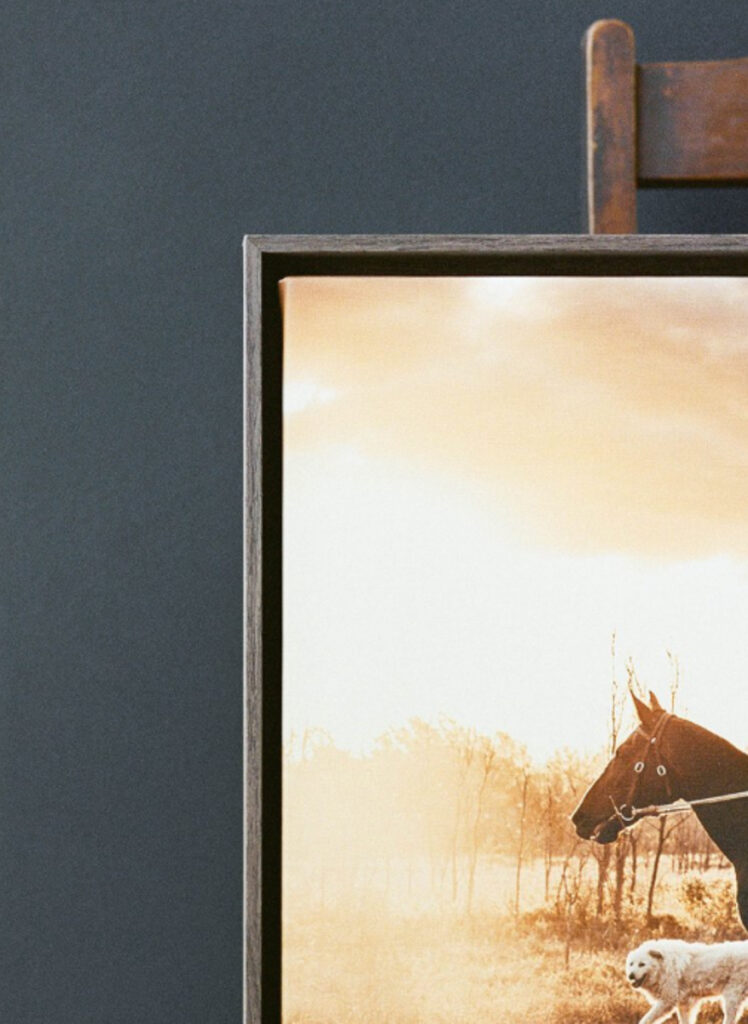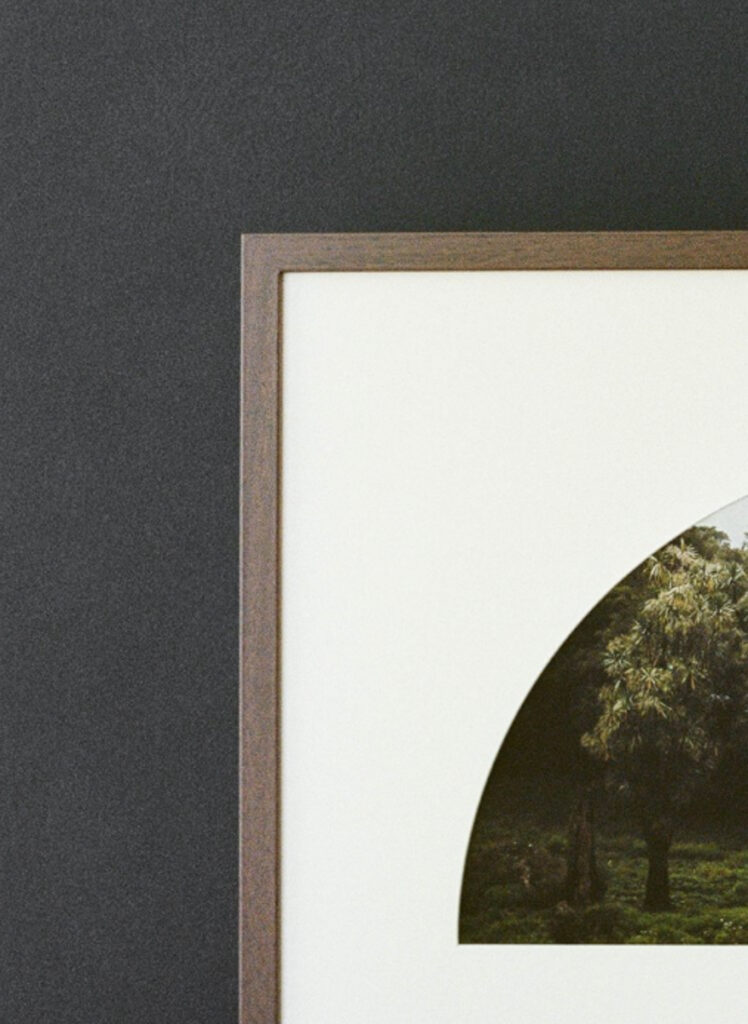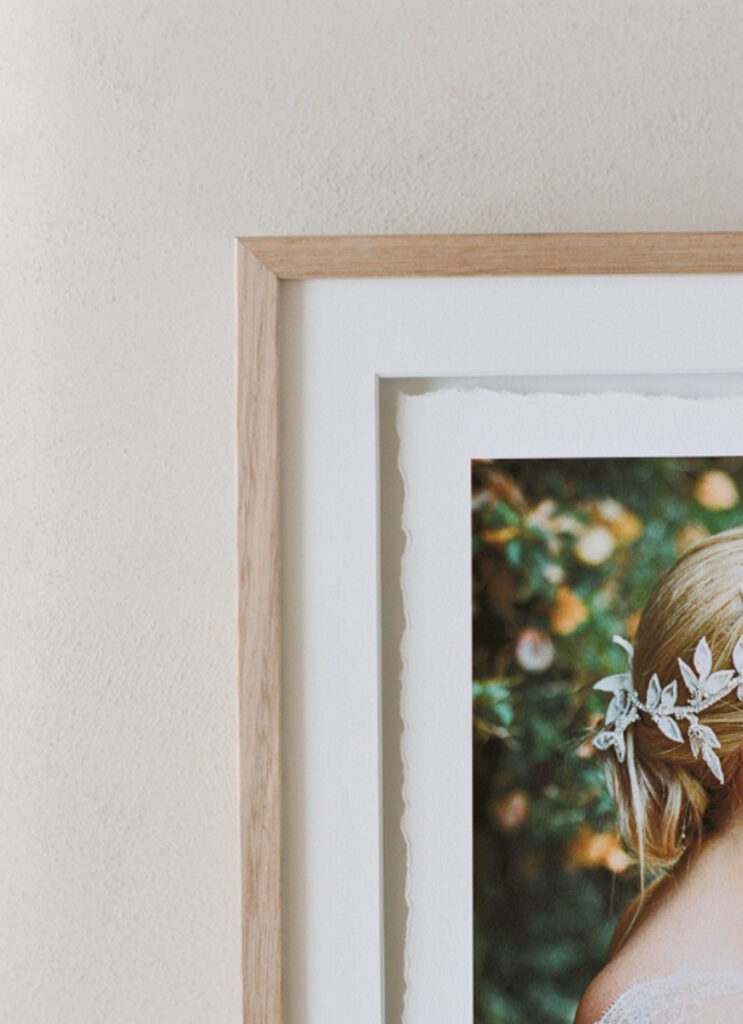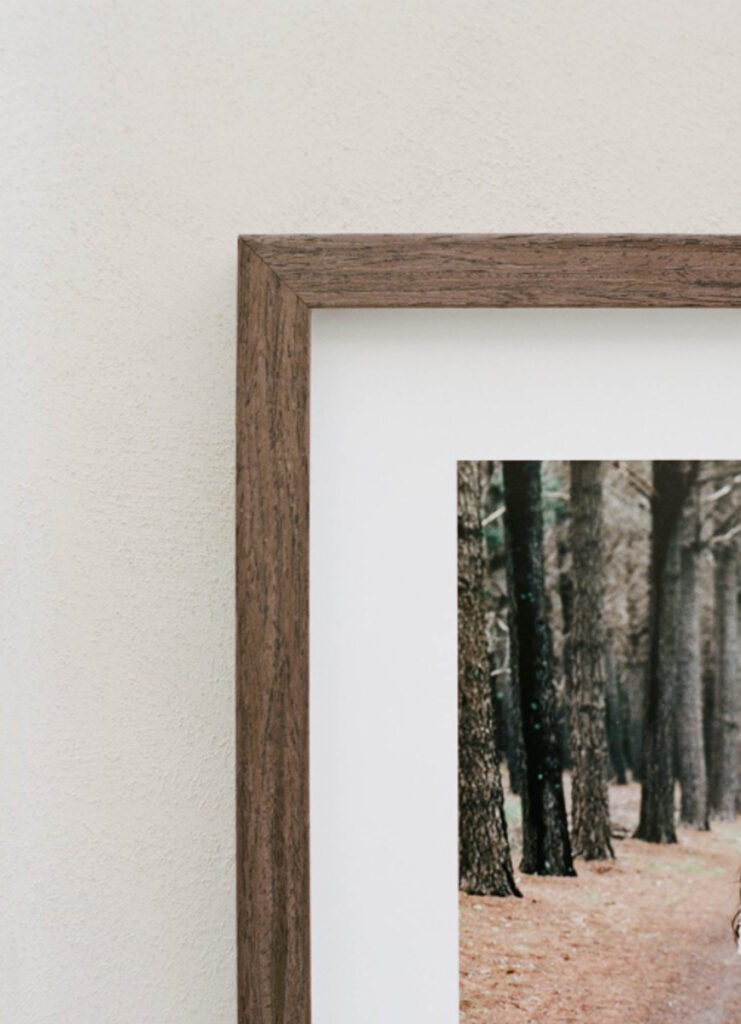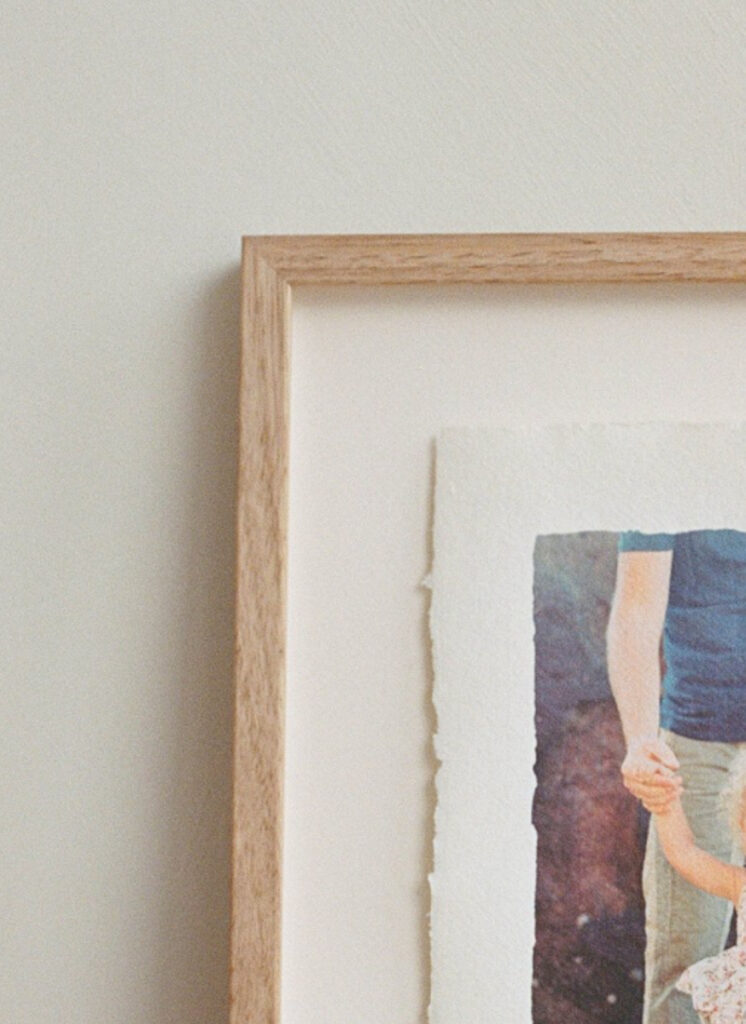 Canvas
It never goes out of style. We do it the right way, quality you can still see in 30 years.
Framed canvas
Makes for a lovely and sophisticated box frame product that stands up on its own and fits anywhere.
Matted framed print
Choose from a range of shapes and sizes for your matted framed print.
Master Fine Art print floating in a box frame
The original and the best, show off the hand-torn art paper.
FMaster Fine Art print floating in a box frame with a wide border and box frame
Simply perfect, modern, and clean.
Hand Made Paper print floats in a perfect frame
Shows off the amazing textures.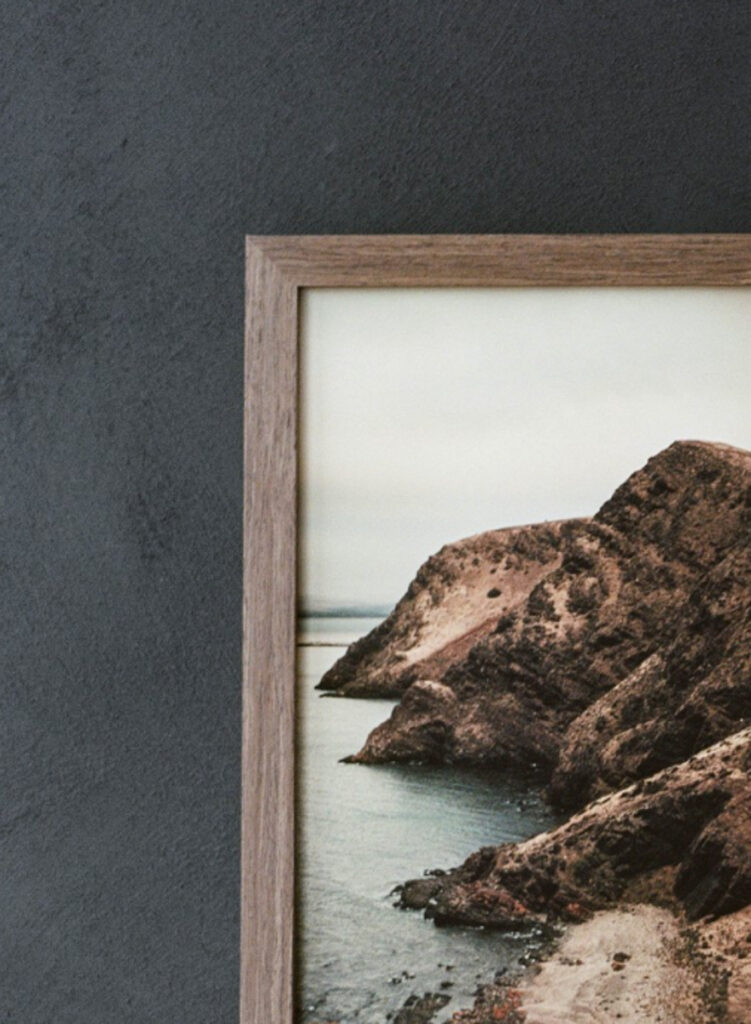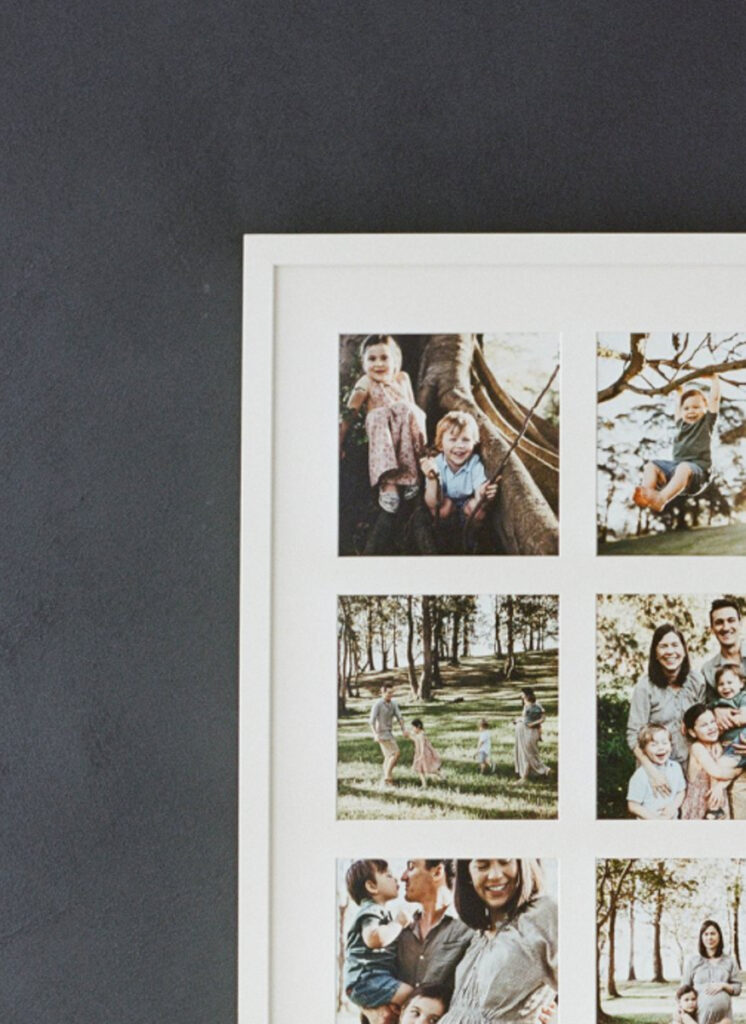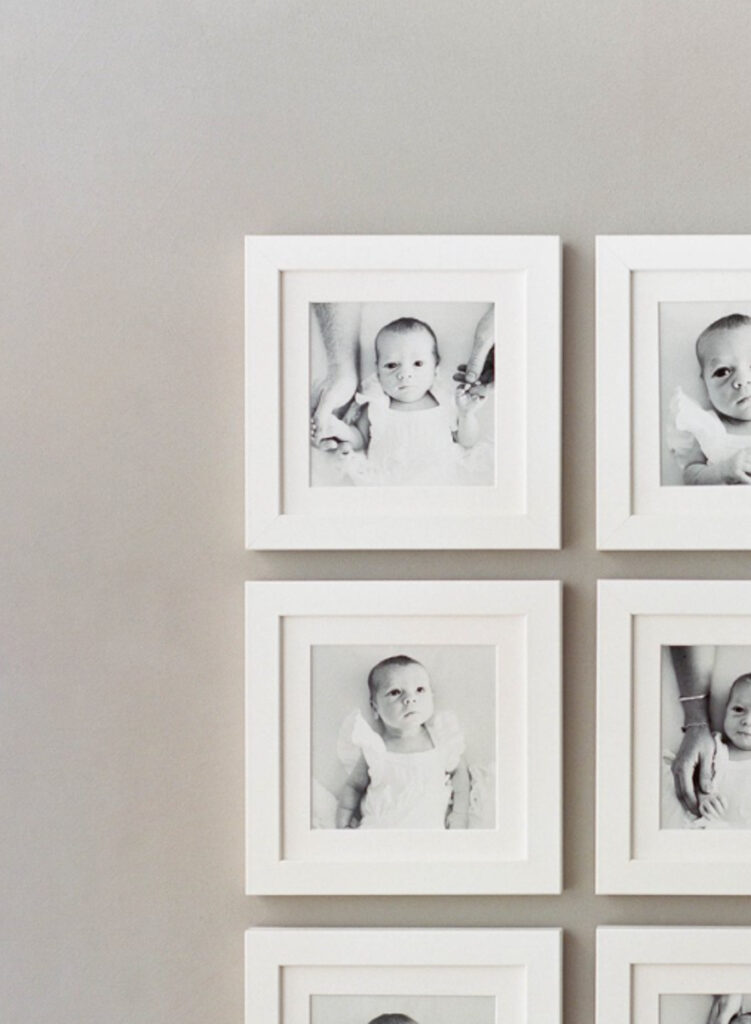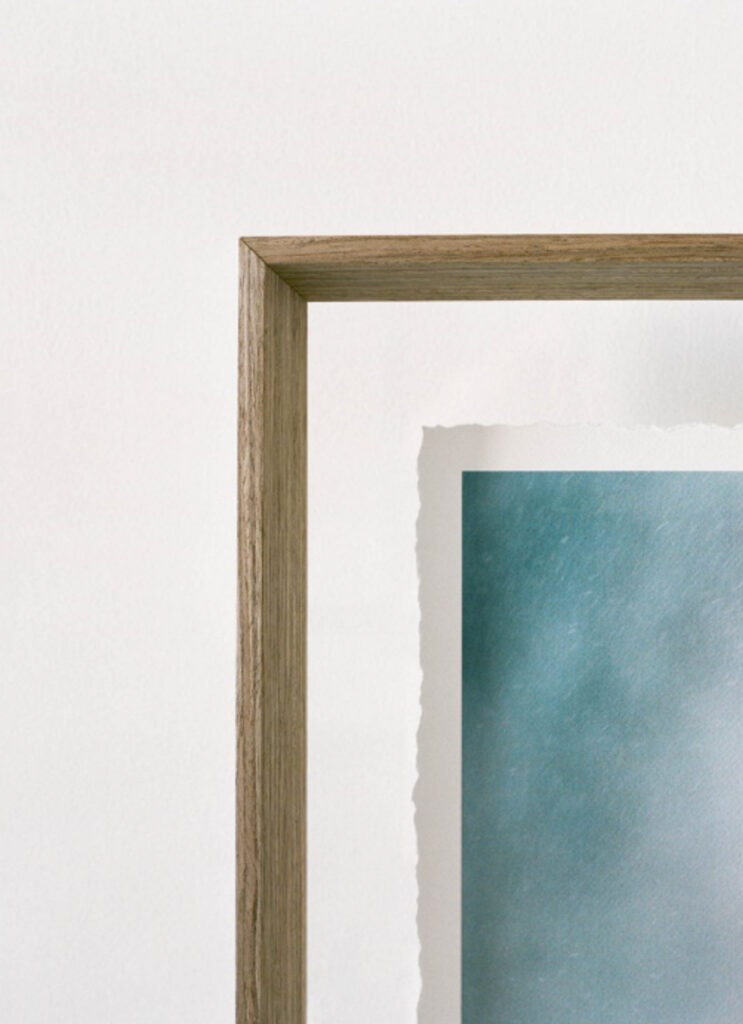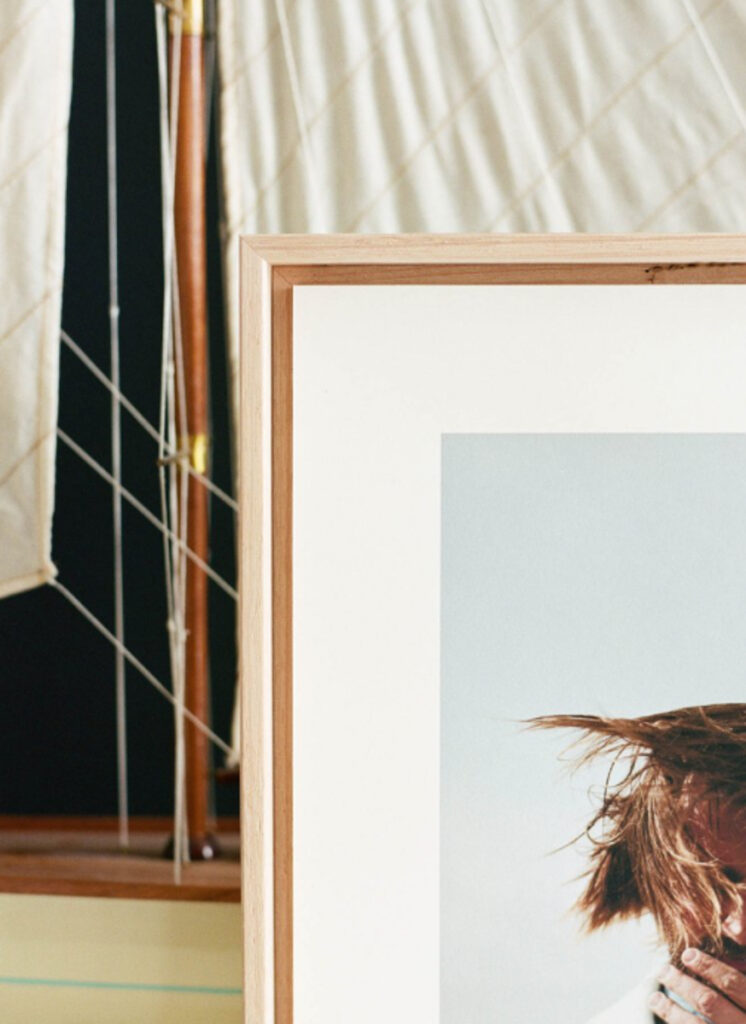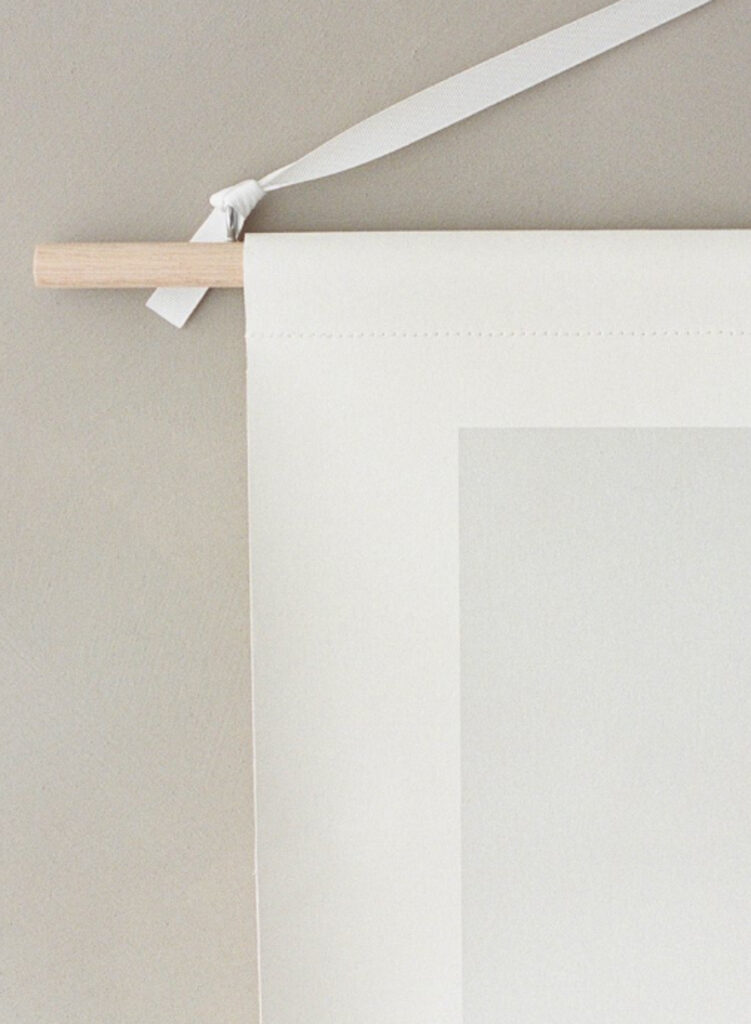 Print & frame
Simple and driven by the image. This is all frame and no matt border.
Classic collage
Choose from a range of designs created by me.
Instagram squares
Go for dozens at a time for a big impact. They are sold in bundles of four.
Transparent
A glorious way to show off a torn edge. Available in round sizes too.
No acrylic
Exquisitely delicate, with no acrylic to protect the print. Widely chosen by artists for reflection-less glary.
Vintage school map canvas
Supremely easy and relaxed, the backdrop to the perfect space.
Print Comparision
Believe it or not, it's not about the paper. The difference between our prints is the actual technology used to make the image appear on paper. The actual printer machine. And, with the oldest Kodak account in Australia and a full suite of the latest technology, we have the best of both worlds, at your disposal. 85 years of printing and still, each one is unique and carefully managed for perfection.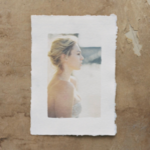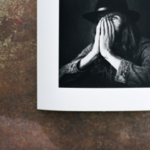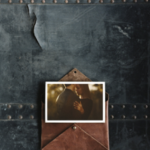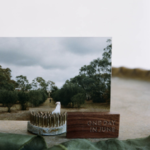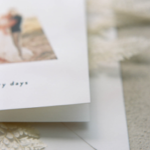 Hand Made Paper
These prints are actually Master Fine Art prints but the paper is extraordinarily different. Each sheet is made by hand with a natural edge. Unique and amazing.
• perfect for images where you don't need rich blacks as the paper soaks up the ink so much
• comes in restricted paper sizes
• not available for albums
• does have a big variation in paper colours so be careful to make these prints one-off unique pieces
•heavy paper weight 160-300gsm
• very deep texture
Master Fine Art
Printed on the finest cotton paper with pigment inks. Delicate and fine but simply the highest quality image in print available to date. Our frame packages use these prints.
• stunning detail, amazing rich blacks, and the widest colour gamut of all print technology
• wide format, can go up to 1.8m wide if required
• can be made into small prints but the surface of the ink is very delicate and handled with care
• heavy paper weight 300gsm
• available for albums
Matte Art
The lovely all-rounder everyone loves. Beautiful matte art paper finish that is tougher than Master Fine Art but better price point. Amazing as a pile of torn-edge prints.
• wide colour gamut with a less delicate surface but still requires careful handling
• mid-price point
• not available for framed prints
• good for photomounts
• smooth surface, a lovely matt art finish
• light paper weight, 230gsm
• available for albums
Traditional Photo
Printed using light on silver halide paper – the lustre we all know and love and means 'photo print'. Hardy, trusty and ready to go anywhere, the sheen of the paper is classic.
• good colour gamut, the classic 'Kodak' look where everyone looks good
• cost-effective
• excellent handling capacity, ideal for small prints
• lustre or gloss surface finish
• great for photo mounts
• available for framing
• light paperweight, 180gsm
• available for albums
Ephemera
This is our gift card and calendar range. Printed using electrostatic inks that produce a low-cost hardy print, perfect for products that are here for a good time not a long time.
• limited colour gamut
• very cost-effective
• good handling capacity, same printing method as business cards so it can handle it
• matte paper surface but a slight sheen on the print surface under some light
• great for ephemera such as cards, calendars, etc.
• heavy paperweight 270gsm
• not available for frames or albums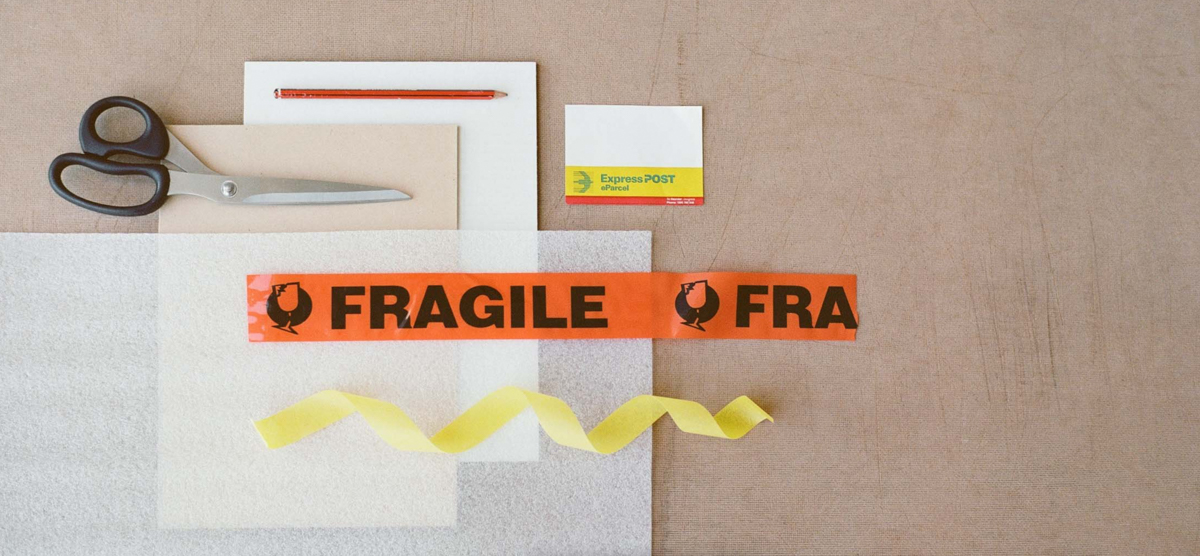 Delivery & Shipping
Delivery times. Delivery times may vary depending on the product and size of the order. Generally, a good turnaround window to keep in mind is 4-8 weeks from the time of payment and order placement.
Where will my print be sent? If you live nearby, we can arrange for you to pick up your order from my studio. If you're not local, we can safely ship and deliver your cherished memories directly to your home.
What items can you ship? I have years of experience in shipping prints and artworks, including framed prints, without any damage. I use acrylic instead of glass and rely on the lab's expert packing techniques to ensure that frames arrive safely at their destination.
Is shipping included? I don't believe in hiding the shipping cost by raising the prices of my products. I am transparent about the cost of shipping and you can see exactly what you are paying for. I regularly check with my suppliers for any cost reductions and I always pass on those savings to my customers.
How much is shipping within Australia? I can ship almost any item to anywhere within Australia, with rates that are generally affordable for most customers, unless it is a large frame or to a remote area. I utilize Australia Post's e-parcel service, which includes weekly pick-ups and express shipping for small to medium-sized parcels. However, larger parcels are shipped via regular post unless requested otherwise. It's important to note that shipping rates listed include the cost of shipping to national metropolitan areas, as well as some international locations.
While I strive to provide up-to-date information, I cannot be held responsible for fluctuations in pricing by postal and freight services. If the shipping fee exceeds the rate listed, I will request that you pay the difference, and if it's less, I will pass on the savings to you. I also offer express deliveries for an additional fee.
Do you ship globally? Yes. I must advise you that international shipping can be quite costly. Why? Unfortunately, this is due to the infrastructure involved in shipping items out of Australia. Despite this, I make every effort to keep shipping costs as low as possible for my customers.
Please keep in mind that certain countries, such as New Zealand, may have additional taxes and levies, such as the Goods and Services Tax and the import entry transaction fee, which will be invoiced accordingly. For your convenience, you can find information regarding shipping to New Zealand HERE
Australian and NZ shipping rates (last updated June 2023)
Small Express $16.50 Any quantity of prints and accessories only
Medium Express $27.50 Any quantity of albums and wall print packages 8×12″ and smaller
Large Regular $44 Any quantity of albums and wall print packages 8×12″ or larger
Large Express $55 Any quantity of albums and wall print packages 8×12″ or larger
Extra large (over 1 meter). Packages larger than 1 metre cannot be sent via Australia Post. These will need to be quoted to send via courier. Must be to a home address, not a PO Box. N/A for NZ clients
International shipping rates (last updated June 2023)
I use fully tracked EXPRESS Australia Post for our international shipping. Please check here to see the zones and check what zone you are in. Shipping takes usually between 3-10 business days, but due to COVID estimated delivery times are between 7-30 business days. Pricing is in Australian Dollars.
Once parcels have left Australia they can be tracked via your local postal service using the tracking number provided.
USA, Canada, and Asia
Small Express $43 Prints and accessories only
Medium Express $49.60 Albums and wall print packages 8×12″ and smaller
Large Express $78.20 Albums and wall print packages larger than print size 8×12″. Wall print packages or print sizes larger than 20×30″ are N/A for international shipping.
UK and Ireland
Small Express $50.70 Prints and accessories only
Medium Express $57.30 Albums and wall print packages 8×12″ and smaller
Large Express $84.80 Albums and wall print packages larger than print size 8×12″. Wall print packages or print sizes larger than 20×30″ are N/A for international shipping.
All Other Countries
Small Express $61.70 Prints and accessories only
Medium Express $70.50 Albums and wall print packages 8×12″ and smaller
Large Express $105.70 Albums and wall print packages larger than print size 8×12″. Wall print packages or print sizes larger than 20×30″ are N/A for international shipping.

How do I use a gift or print the voucher?
If you have received a gift/print voucher, you have the option to use the credit towards any printed items or transfer it to a digital package of your preference.
Do you have payment plans?
Yes. You can find out more by clicking HERE
Can I change my print order?
Because photographic products are custom-made, all orders are considered final and cannot be altered, canceled, or refunded for any reason after payment is received.
What happens if my print gets damaged?
Kindly handle the artwork with care, as any damage to the artwork after it has left the lab or my studio will be the Client's responsibility and a fee will be charged to replace it. In the event of transit damage (due to freight or postage), the damage will be assessed on a case-by-case basis. Rest assured, I will do my best to assist you in such situations.
Do you have a warranty for prints?
I offer a guarantee on all my artworks as my lab uses only the highest quality materials available. If you believe that any artwork has lost its original color, I will replace the photograph for 50% of the current selling price.
However, you will need to return the original photograph to me at your own cost for inspection, and the reprinting charge must be paid in advance. This guarantee will remain valid as long as the Studio has possession of the original files in printable condition.