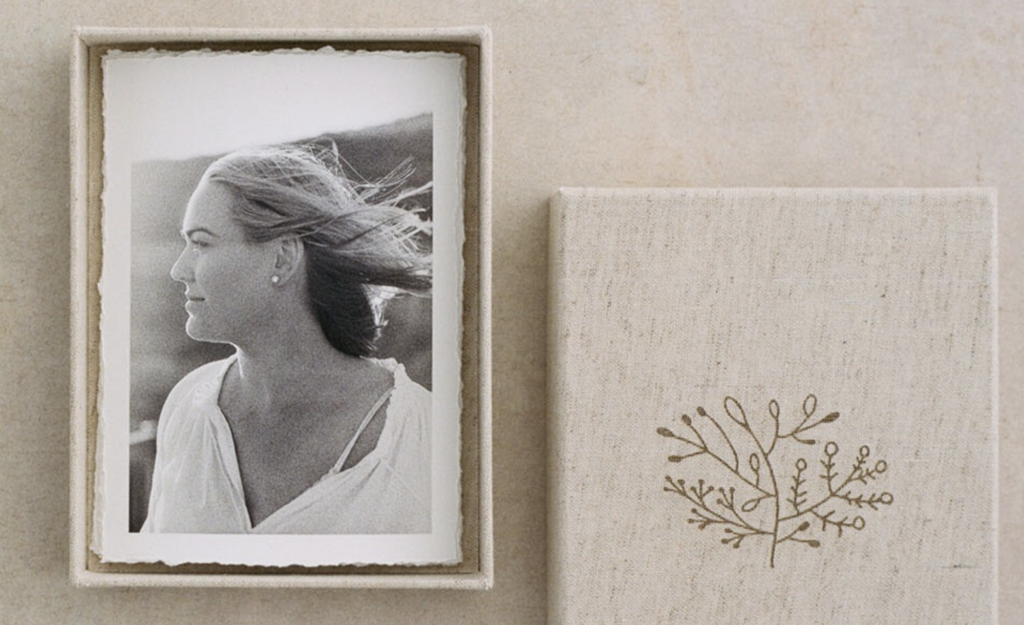 Why do you offer prints?
In my professional opinion, the ultimate product from your session is not 'ALL the photos in the digital format', it is in fact the printed memories. I truly believe that one day, these may be the only things we will look back on. After more than 30 years of being a photographer, I know for certain, that many of my clients would rather have one stunning image to adorn the wall in print, than 100 digital images on a hard drive that they'll very soon forget.
Where can I view the printing options?
You will soon see all the printing options within your private online gallery. If you'd prefer to take a look at the options in advance of your personalised gallery going live, please scroll to the bottom of this page and click the link to view my sample gallery + print store.
Do you have a minimum purchase requirement for prints?
Yes. The minimum purchase requirement for printed items is $50. Orders placed after the 7-day period are subject to the Studio's published pricing at the time of the order's placement, otherwise, current prices will apply. All orders must be confirmed in writing and accompanied by full payment unless a prior arrangement with the Studio has been made.
Can I order prints from all the photos in my gallery?
No. Only the photos you select as your favourites (the digitals you purchase) may be ordered as prints. The photos you didn't choose will not be available for ordering.
How do I use a gift or print voucher?
If you received a gift or print voucher, you may use the credit towards any printed items, or transfer the print credit into a digital package of your choice.
Do you have payment plans?
Payment plans can help you spread the cost of your photography print package over time. Apply for a quote and get started for as little as $20pw! Terms and conditions apply. CLICK HERE TO LEARN MORE
When should I order?
Once you see your gallery and have chosen your favourites we can then discuss the printing solutions that best suit you. Included in your investment is a free online consultation to discuss your individual needs. Let's book a time to chat so I can get to know a little bit about your décor and space and help you plan your project.
What should I order?
As you walk through your home, consider which walls would be best used to showcase a single showpiece image or a creative wall gallery from this session. Perfect display areas can be anything from a blank wall to one which already contains portrait art from a previous session.
Don't forget to consider the people in your life who would love to receive the thoughtful gift of beautiful portraiture for an upcoming holiday, birthday, celebration, or– better yet – for no reason other than the fact you were thinking of them!
If you need a print order by a certain date, please make this clear at the time of your consultation. Prints and artwork delivery times vary from product to product as well as the size of the order. A good time window to keep in mind is a 4-8 weeks turnaround, from payment of invoice and ordering of product.
Can I change my print order?
Due to the custom nature of photographic products, once paid, all product orders are final and cannot be changed, canceled, or refunded for any reason.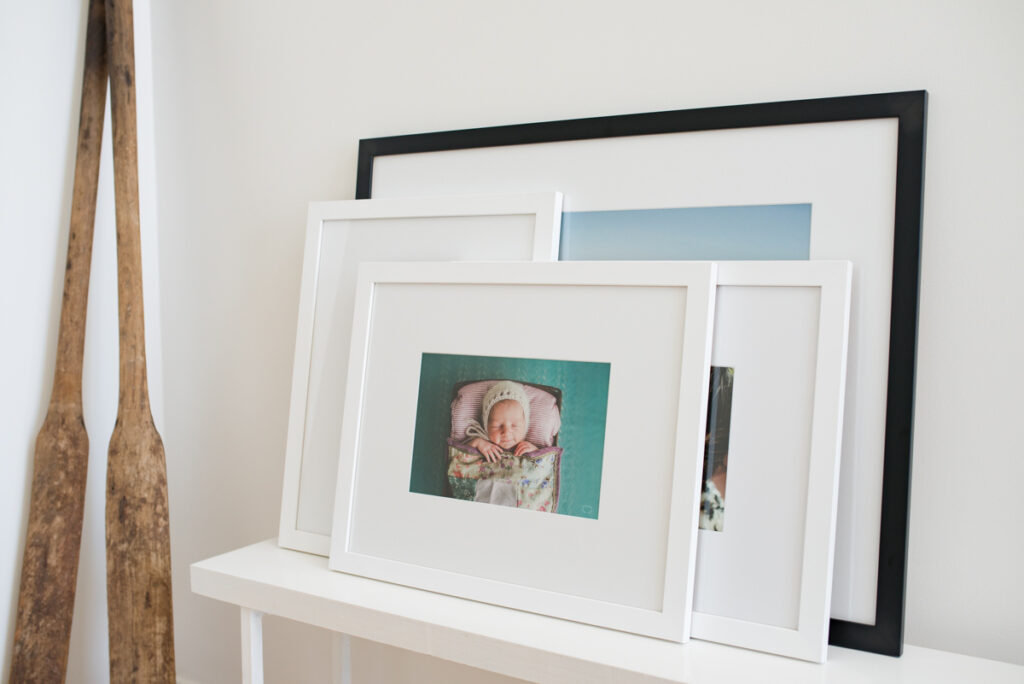 Can I print my photos anywhere?
Can and should are two different things.
A print release (for personal use) is provided within your contract. This means you may print them at your own choice of print labs. However, I highly recommend printing directly from your online gallery for two reasons:
I can monitor the quality and liaise directly with our professional labs. If you print outside your gallery, I can not guarantee the quality and colour replication. In other words, I do not provide printing rights to chain stores such as Officeworks, Harvey Norman, Big W, etc. as their quality doesn't give justice to the beautiful images created for you. My guarantee and/or warranty are only provided for prints and products purchased through your gallery.
My print prices are affordable and I do all the legwork, so there's really no reason not to!
What size can I print?
I guarantee optimum print quality up to 16 x 24″. You can print beyond this size but should expect grain and slight deterioration of quality from much larger prints. This is why it is important to choose the right materials for the size of the print.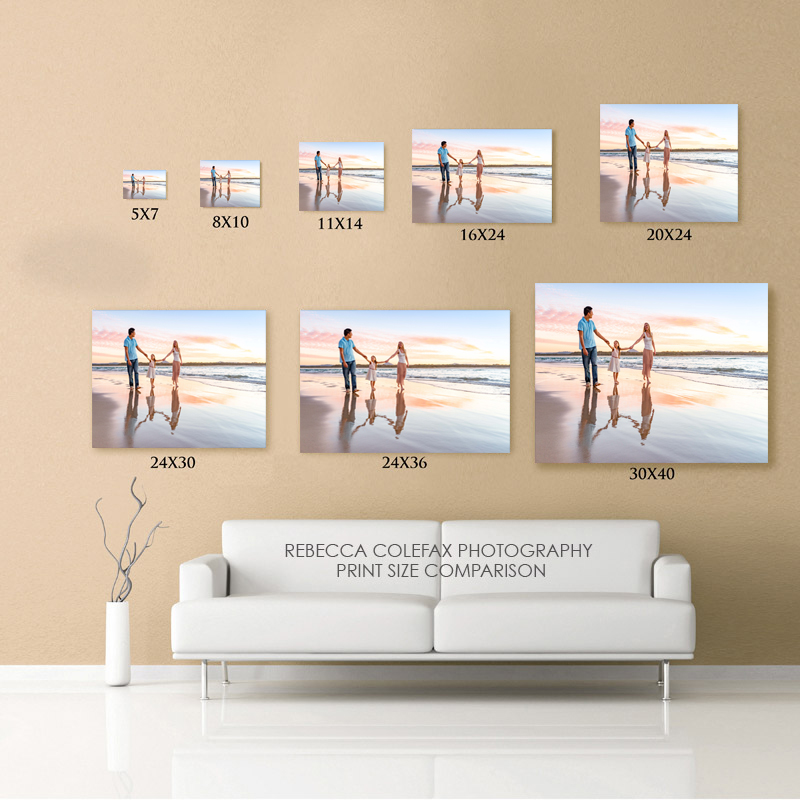 Can I print more photos with you?
When you receive your online gallery it will be linked to my print store. I will arrange your print products (as per your package), but you can also purchase additional products, for family and friends before your gallery expires.
Do you just print photos you take?
No. I often print photos taken with or without me including old family photos, prior sessions, wedding or baby images and even travel photos. I'm very experienced with printing and am happy to help with any editing, printing or framing needs you may have.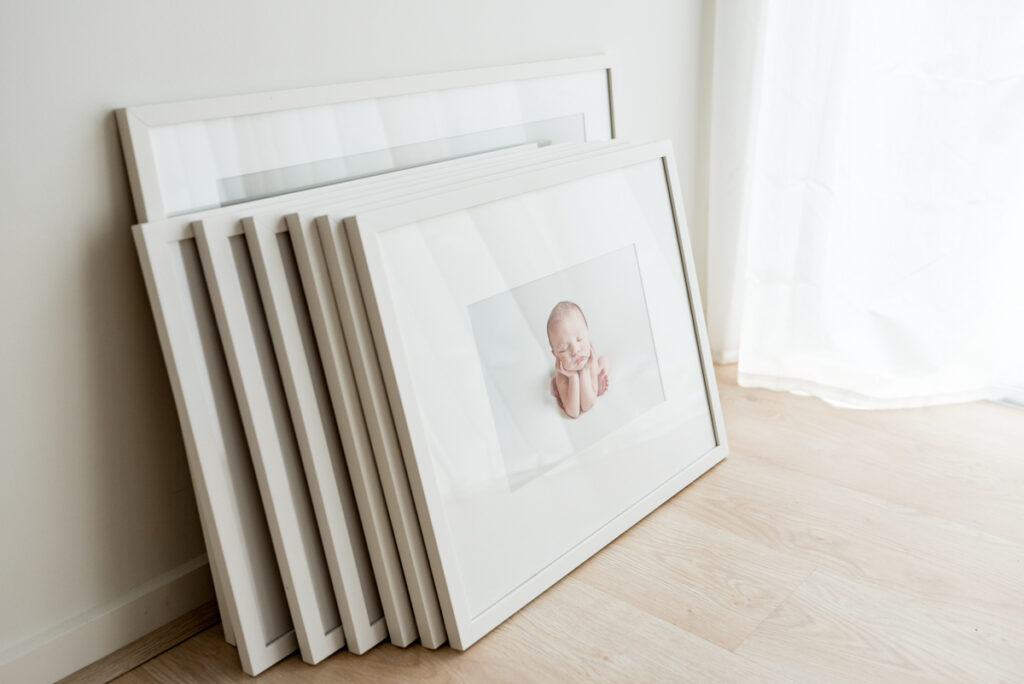 Where should I display my prints?
All sensitized material and colour dyes have limited life expectancy which is minimised when exposed to strong and prolonged sunlight, heat, or fluorescent light sources. Photographs will last longer if displayed under low lighting conditions.
What size, orientation should I print?
To achieve the best quality prints, it's important to size your image correctly for the print. I am here to help guide you through this process and choose the right size for your home or space.
While there is no definitive answer as to exactly how big or small your print should be, there are a few steps you can go through to make sure you make the most informed decision possible. The best way to do this is to break it down into the following 3 categories:
Size
If you are looking at hanging your art print on an empty wall, it is best to aim to fill about 2/3 of your available space. If you are looking at hanging the piece above furniture such as a bed, a couch, or a console, do make sure that your art is not wider than the piece of furniture. Generally speaking, the art should be about 60 – 80% the width of the furniture.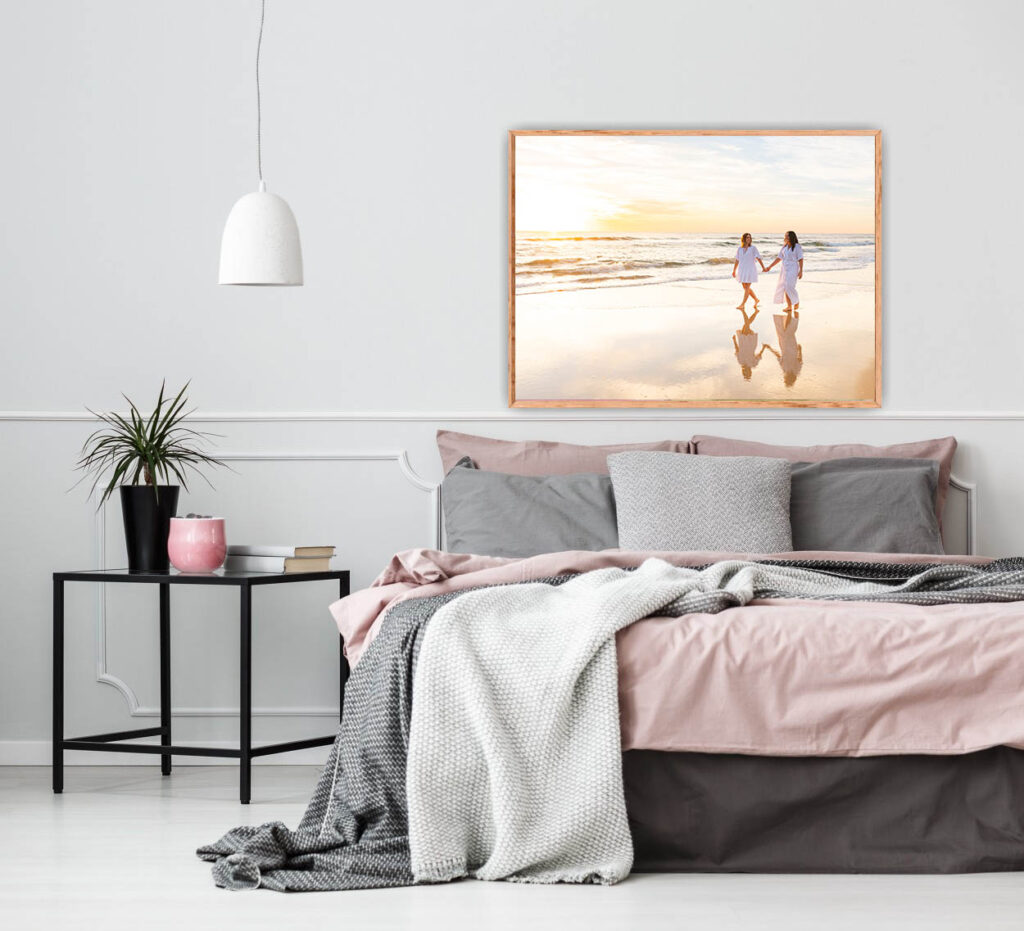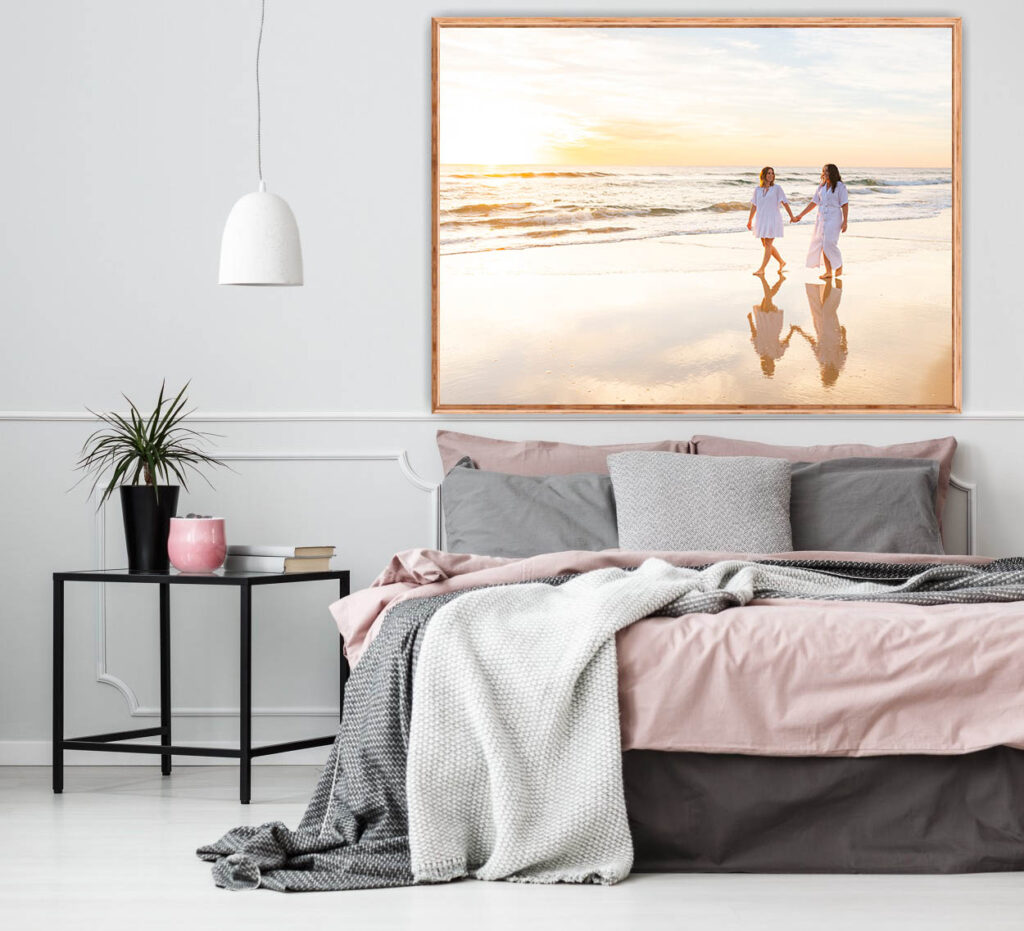 It is a great idea to measure your wall and the piece of furniture you would like to hang your art on. When purchasing a print, keep in mind that a matt board and a frame will further add to the size. Even if you choose to frame without a matt board, the frame will add at least a couple of cm (each side) to the size of the print. My recommendations:
King size bed: 33 x 46in (84 x 119cm) will go well with or without a matt board.
Queen size bed: 33 x 46in (84 x 119cm), or a 24 x 33in (59 x 84cm) with a matt board to add extra size.
Double size bed: 24 x 33in (59 x 84cm) for above a double bed.
You can even use painter's tape and tape where you would like your art. And if you are still unsure, you can send me a well-lit photo of your space as well as the dimensions of your space and I can mock up a few size options for you.
Orientation
When choosing how to hang your print, you need to consider the size and shape of your wall. If for instance, you have a wall that runs high and want the artwork to fit in a skinny place (such as between two windows), then it is best to hang your artwork with a portrait orientation. If your wall is long, or you want to hang your artwork above something wide, like a couch or a bed, then landscape orientation is best.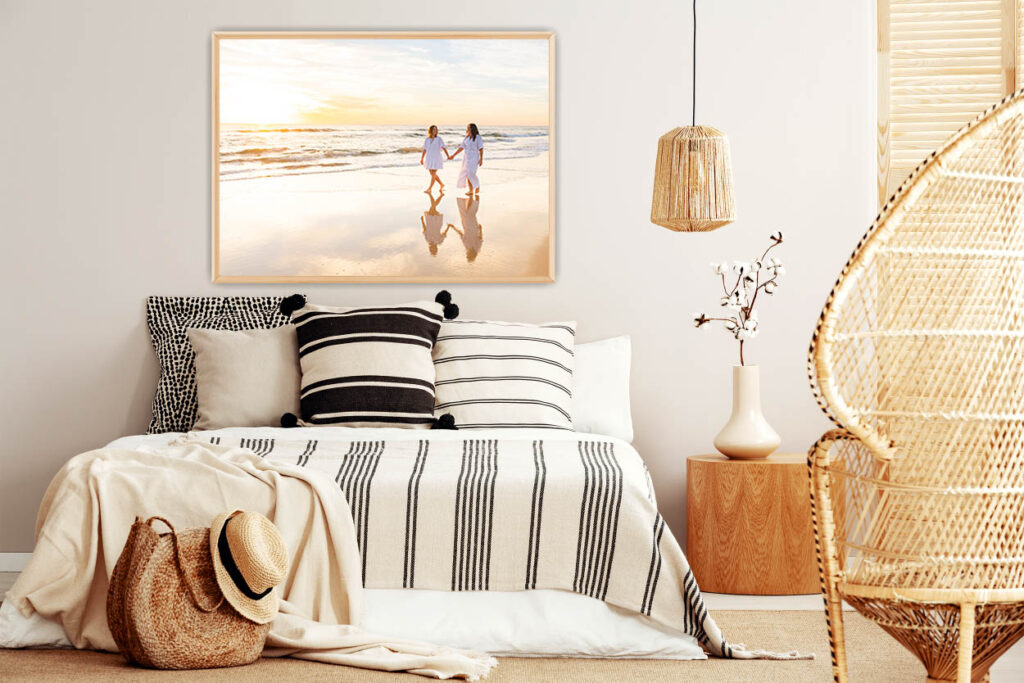 The placement of your art print is crucial in achieving an aesthetically pleasing space. A general rule is that the center point of the print should be hung at eye level. When hanging a piece above a bed or couch, the bottom of the print should be around 10 to 15 cm above the top of the bed or couch.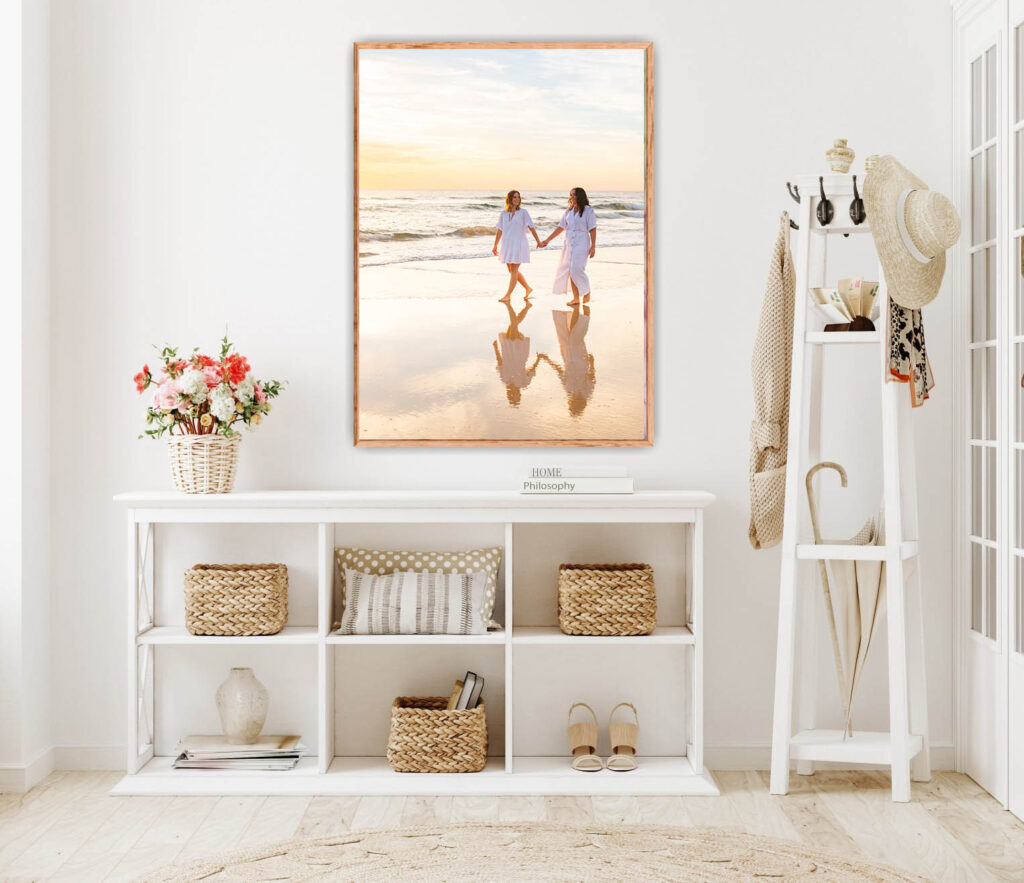 Where will my print be sent?
If you are local we will schedule a time for pick up from my studio, if not, we will organise safe postage and delivery of your precious memories direct to your home.
What items can you ship?
I have been shipping prints and artworks successfully for decades, even framed prints. Frames could be considered the most delicate item, yet with a combination of the acrylic I use in place of glass, and the lab's excellent packing skills, frames are routinely delivered without damage.
Is shipping included?
What I DO NOT want to do is have "Free shipping" which just means I up the price of everything to cover the shipping cost. I keep it open and honest and you can see what you're paying for. I regularly check on my supplier and any price reductions I can get I will pass them on to you.
How much is shipping within Australia?
I can ship pretty much anything anywhere inside of Australia. Unless it's a very large frame or rural area, the rates generally suit everyone. I express ship anything classed as a small or medium parcel. Large parcels are sent regular post unless specified. I have been successfully using Australia Post's e-parcel service for years now, and have a weekly pick-up. Anything over 1 meter cannot be shipped via Australia Post and shipping costs will need to be quoted.
Please note; that the following prices include shipping rates to national metropolitan areas as well as some international locations. Whilst I do my best to provide the most up-to-date information I can not be held responsible for fluctuations in pricing by postal and freight services. If the shipping fee exceeds the rate listed, you will be requested to pay the difference. Likewise, if it's less I will also pass on these savings. Express deliveries are also available for an additional fee.
Do you ship globally?
Yes. But please be warned, international shipping is expensive! Why? Well, I am told it's an infrastructure thing, and getting things out of Australia just costs a fortune. I try very hard to keep shipping costs to a minimum. Please note some countries, such as New Zealand may have a Goods and Services Tax (based on 15% of the customs value of the goods, including the duty (if any) and postal/courier charges), an import entry transaction fee (IETF) & biosecurity levy. All taxes and levies (if any) will be invoiced. For quick reference, the NZ information can be found here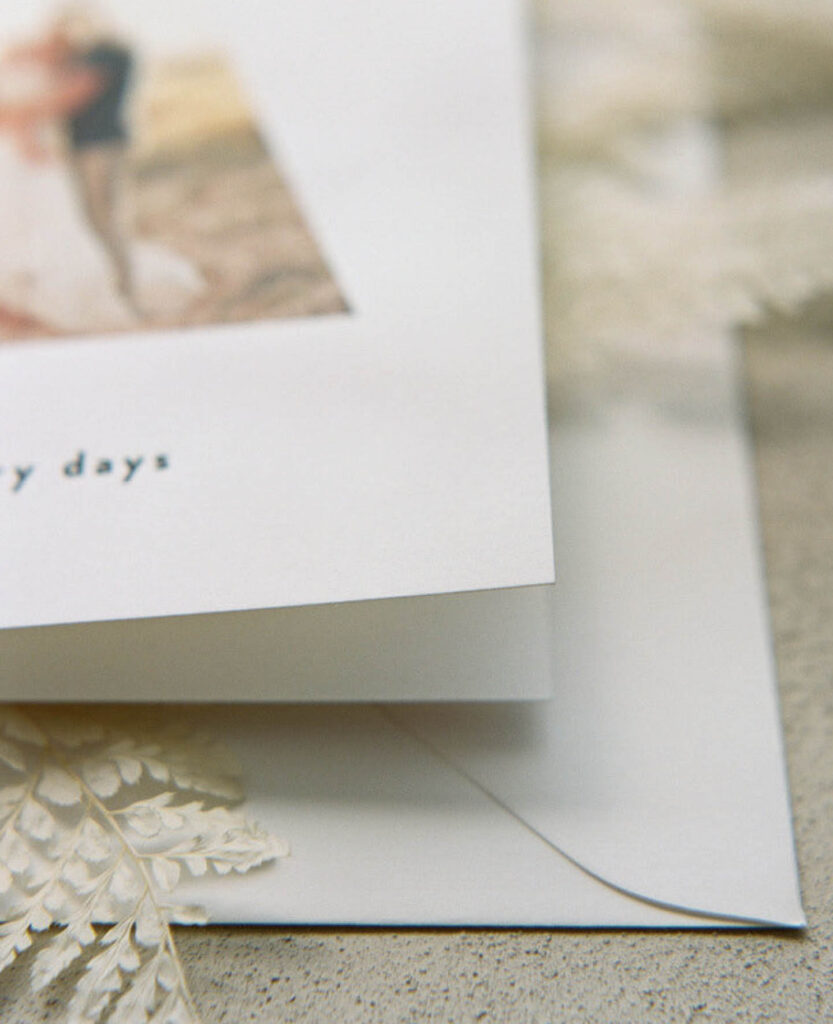 Australian and NZ shipping rates
Small Express $18 Any quantity of prints and accessories only
Medium Express $30 Any quantity of albums and wall print packages 8×12″ and smaller
Large Regular $44 Any quantity of albums and wall print packages 8×12″ or larger
Large Regular $55 Any quantity of albums and wall print packages 8×12″ or larger
Extra large (over 1 metre). Packages larger than 1 metre cannot be sent via Australia Post. These will need to be quoted to send via courier. Must be to a home address not a PO Box.
N/A for NZ clients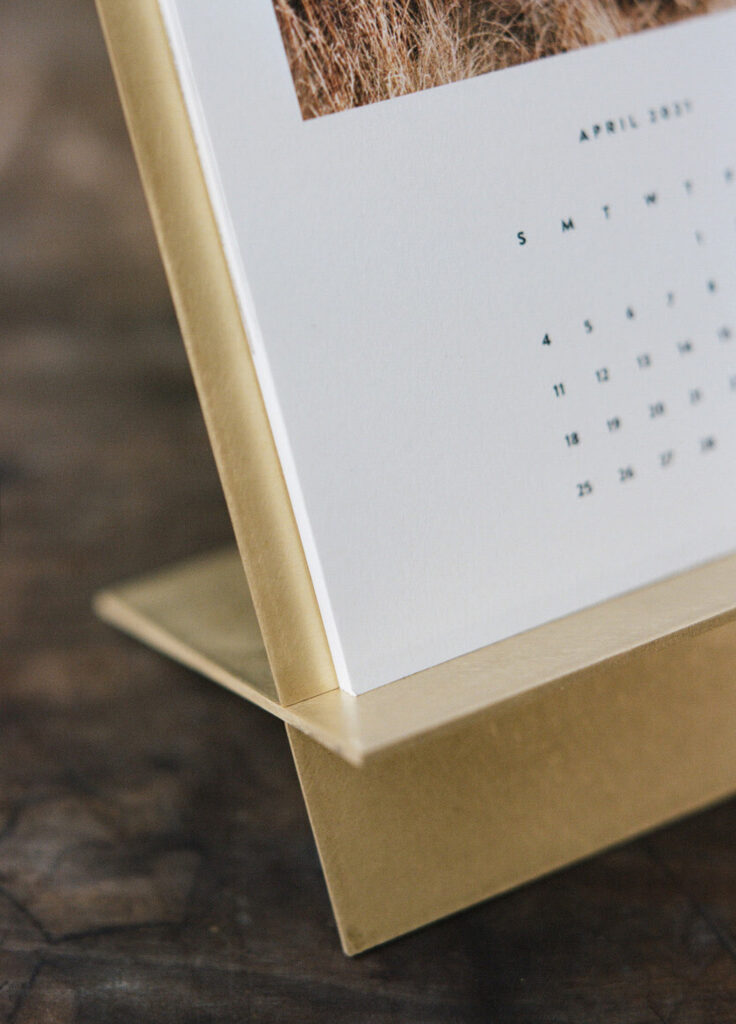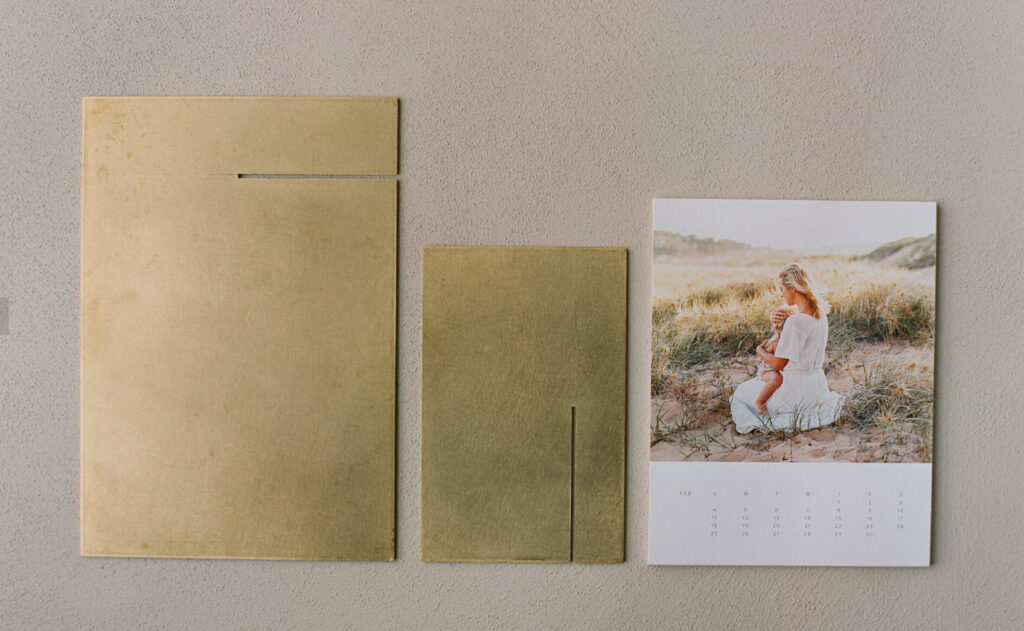 International shipping rates
I use fully tracked EXPRESS Australia Post for our international shipping. Please check here to see the zones and check what zone you are in. Shipping takes usually between 3-10 business days, but due to COVID estimated delivery times are between 7-30 business days. Pricing is in Australian Dollars.
Small Express $40 Prints and accessories only
Medium Express $70 Albums and wall print packages 8×12″ and smaller
Large Regular Albums and wall print packages larger than print size 8×12″ or Wall print packages with print sizes larger than 20×30″ are N/A for international shipping
Do you use glass or acrylic in your frames?
My print lab makes your custom frames on-site and by hand. They use lightweight acrylic glazing that both protects and assists in prints preserving their original colour. The cast acrylic has UV properties, non-yellowing properties, and is optically pure.
What happens if my print gets damaged?
Please handle artwork with care, any damage to an art piece that has left the lab or my studio is the responsibility of the Client and there will be a fee to replace it. In the case of transit (freight or postage damage), it will be assessed on a case-by-case basis but dont worry I'll always do my best to look after you!
Do you have a warrenty for prints?
My lab manufactures artworks using the finest materials currently available, therefore I guarantee them. If in your opinion any artwork has lost its original colour, I will replace the photograph for fifty percent of the current selling price. The original photograph must be returned to me for inspection at your cost and the reprinting charge paid in advance. This warranty will be valid for as long as the Studio has possession of the original files in printable condition.